Motorola Announces the Backflip
Article Comments 10
Jan 6, 2010, 8:47 PM by Eric M. Zeman
updated Jan 6, 2010, 9:18 PM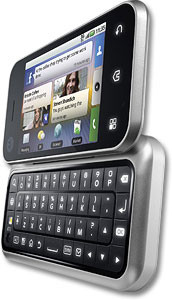 Today Motorola announced the Backflip Android phone for networks worldwide with MOTOBLUR. The Backflip is a clamshell device that has a full QWERTY keyboard that folds onto the back of the device. The front houses a touch display and there is a touch-based trackpad on the back surface of the Backflip that can be used for on-screen navigation. It is similar to a laptop trackpad and lets users scroll through menus and screens. The Backflip looks similar to that of the Motorola CLIQ. It has 5 megapixel camera, 3G, Wi-Fi, Bluetooth, and has the same dock mode that the Motorola Droid has. The Backflip will ship with Android 1.5, but will eventually be updated to Android 2.1. The Backflip will be available from a North American network operator, though Motorola wouldn't commit to which, by the end of the first quarter.
source: Motorola
AT&T. . .
This is the Moto handset that ATT described as having an unusual design.

This phone is of no interest to md though. I'm going to wait and see what kind of specs HTC puts into an Android phone for ATT.

If anybody has any idea what HTC is cooking up for ATT, please share.
Yes, it's definitely coming to AT&T. For some silly reason, Moto won't say that, but it made a very prominent appearance in the AT&T presentation, and they gave a Backflip to all AT&T developers in attendance that wanted one.