Review: Motorola E815
Form Function - Basics Function - Extras Wrap-up
Camera Pictures and Videos Browse / Customize Other
As long as the light is not too bright, the E815 has good vision and good detail. When subjects are further waway, the E815 quickly loses detail. Shots from only 15-20 feets away are much more pixelated, even at the highest resolution. Like the smaller sensor in other Motorolas, the new 1.3 MP sensor bleeds out in bright light, losing all detail. The E815 tends to be heavy on the greens and yellows, which over saturates those colors, while darkening and dulling other colors.
The video recording is rather smooth. Even though it becomes pixellated at times, at least there aren't complete pauses like with some other phones. The sound is also excellent, better than most phones we've tested.
Advertisements article continues below...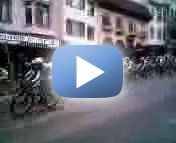 3GPP2 / MPEG-4 format (viewable with QuickTime)
File size: 123 KB