LG's Chocolate Touch Kicks Out the Beats
Article Comments 6
Nov 5, 2009, 9:15 AM by Eric M. Zeman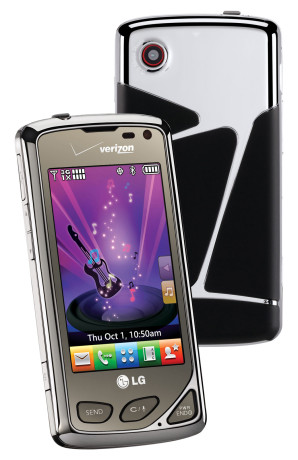 Today Verizon Wireless announced the availability of the LG Chocolate Touch starting immediately on November 5. The Chocolate Touch offers premium music features, including Dolby Mobile equalizer, FM radio with 12 presets, Song ID, and a "Join the Band" function. When using Join the Band, users will be able to interact with music by tapping on a virtual drum kit and playing a virtual piano on the screen. Other features of the LG Touch are a 3.2 megapixel camera with video capture that also has a panorama capture mode and facial makeover editing. The Chocolate Touch also has a dedicated social networking key that will let users perform automatic uploads to sites such as Facebook, MySpace and Twitter. The Chocolate Touch costs $80 after rebate with new two-year agreement.
I can just...
go to Babies R Us and buy a toy that can do that for a lot cheaper and the store won't make me sign a 2 year contract to play with it. 😛
And they wont charge you etra for the features lol.
they also won't make you pay a $350 etf when you sick of your new toy and throw it in your toy chest.