RIM Cops to the BlackBerry Storm2
Article Comments 12
Oct 15, 2009, 7:30 AM by Eric M. Zeman @phonescooper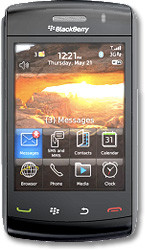 Today, RIM officially acknowledged the BlackBerry Storm2 and announced its forthcoming availability with Vodafone in seven European markets. The Storm2 runs BlackBerrry OS version 5.0, and has completely re-worked the SurePress technology used to interact with the phone. Rather than provide physical feedback via the clicking screen, the Storm2 now uses haptic feedback on its capacitive display to let users know that they've pressed buttons on the screen. The new SurePress software also allows for users to press a key while accidentally touching another. On-board storage has been upped from 1GB to 2GB, and it supports microSD cards up to 32GB. As with the original, it supports quad-band GSM/EDGE and 2100MHz HSDPA. The Vodafone press release makes no mention of CDMA network support, but the original Storm had both CDMA and GSM radios on board and was also sold by Vodafone and Verizon Wireless in the U.S. The Storm2 also has Bluetooth 2.1 with A2DP, GPS, 3.5mm headset jack, 3.2 megapixel camera with autofocus, flash and video capture and Wi-Fi. The Wall Street Journal's Walter Mossberg recently reviewed the Verizon variant of the Storm2, and reports that it will be available in November for about $200.
Would a T-Mobile sim work in this phone?
I mean since it has GSM radios, does anyone know if that is possible right out of the box or does it require some sort of IMEI unlocking?
You will have to "unlock" the phone for it to take a T-Mobile SIM card.
The catch may be that you won't have US 3G. They have unlocked Storms and gotten them working on AT&T also.
According to BlackBerry's Website...
Dual-band 800/1900 MHz CDMA2000 1X Ev-DO networks.

Yup, good find!