Verizon Announces Windows Mobile 6.5 Phone
Article Comments 10
Oct 1, 2009, 12:40 AM by Rich Brome @rbrome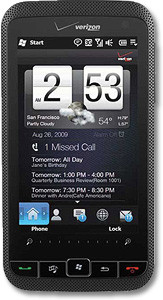 Verizon Wireless today announced the HTC Imagio. This is one of the first Windows Mobile devices announced to ship with version 6.5 of the Microsoft OS from day one. The Imagio sports a long feature list that includes a 3.6-inch high-resolution touch display, MediaFLO live TV, 5-megapixel auto-focus camera, EVDO Rev. A data plus 3G world roaming, WiFi, and an antenna/kickstand that flips out to support the phone for media viewing. The Imagio will be available on October 6 for $199 after rebate and with 2-year contract.
Great, Another phone that will freeze up and not work!
Hopefully Windows gets it right this time... but probably not.
ive had 2 win mo phones and no problems
is it
is this the american touch diamond 2?
Bluetooth Keyboard
I remember reading an article that LG was working on a bluetooth keyboard. Something like that would be perfect for these touchscreen phones. I wonder how they are coming along?
Im not sure about LG, but, Bluetooth keyboards have been out for four years or longer now. Thought about getting one - decided I carried enough stuff already.
WoW! Everything except a physical keyboard.
Also no mention of a 3.5mm headphone jack. But this is the first WinMo phone that supports MediaFlo! And 5mp cam w/af! An all round impressive smartphone.
It has a 3.5mm headphone jack. It's a nice phone. I have seen it. No lagg or anything. Also, the Omnia will be released in 2 weeks. It will come with 6.1 but will be able to upgrade to 6.5 soon. I think 6.5 is still being tested by Samsung for the pho...
(continues)