Cricket Offers Tri-Band 'Text Mate' QWERTY Phone
Article Comments 12
Jul 21, 2009, 7:56 AM by Eric M. Zeman @zeman_e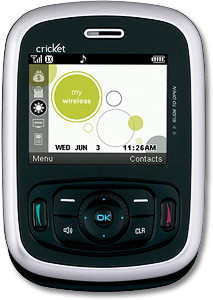 Today Cricket announced the Personal Communications Devices TXTM8, a messaging phone with full QWERTY keyboard and tri-band CDMA radios. The TXTM8 has Cricket's customizable homescreen, which lets users access web content, such as the weather and news. Other features include a 1.3 megapixel camera, stereo Bluetooth, music player and support for microSD storage cards. The PCD TXTM8 is available at Cricket retail stores starting today for $160.
Leap Wireless »
Leap Wireless »
Blah, blah, blah. . .
That's all I saw when reading this article about thhs piece of $hip was blah, blah, blah.
all i see is the Karma Hint and Blitz

fail +3