HTC Reveals Sense UI, Hero Smartphone
Article Comments 100+
Jun 24, 2009, 5:58 AM by Rich Brome @rbrome
updated Jun 24, 2009, 7:20 AM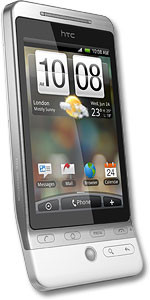 HTC today announced a new software interface for its phones called Sense, available on "all new HTC devices moving forward", as well as the first device to use it, an Android-based smartphone called the Hero. Sense includes a "Scenes" feature that lets you configure different modes for the whole interface, such as work mode and weekend mode. It also pulls together info for various contacts onto one screen. In addition to seeing all text messages, email, and call history for a contact together, Facebook and Flickr feeds are integrated as well. Sense also includes a widget feature to put info such as Twitter, email, calendar and weather on the home screen. The Hero is a slab-style smartphone with a 3.2-inch HVGA display, 5-megapixel auto-focus camera, GPS, accelerometer, compass, 3.5mm headphone jack, and memory card slot. A dedicated search button brings up a function to search the whole phone as well as feeds such as Twitter. The Hero features a fingerprint-resisitive screen, and the white version features a full Teflon coating over the whole device. The Hero will be available first this summer, then in North America by the end of 2009.
NICE!
Got some hands-on time with the My Touch and like it, but after seeing this.... forget the My Touch! 😎

It's releasing with T-Mobile in Europe, here's hoping it will release with T-Mobile USA too!
What would be really nice is if HTC released it to Sprint!!!
Upgrade?
Is there anyway that this could be included on the touch pro 2 since it wont be released till the end of 09?
Well the article does say all new phones moving forward. Likey this sense sofware will be on the Touch Pro 2, it just hasn't been officially announced yet.
Why does HTC give all of it's Android phone the Jay Leno chin?
🤣
not all but frankly it works ergo wise for me. I really like the function of that chin. 👀
While I'm not a big fan of the "Jay Leno chin" on the HTC Android phones, I think it's a good marketing strategy on their part. Intentional or not, consumers can go into a store and easily distinguish Android devices from the slew of other smart phon...
(continues)
lol teflon
I Can Bake Cookies On Its Surface... No More PAM
🤣