Review: Motorola Citrus
Form Basics Extras Wrap-Up Comments 2
Is It Your Type? Body The Three S's Touch
Nov 23, 2010, 7:32 PM by Philip Berne
The Motorola Citrus is an Android phone made with recycled plastics and Motorola's custom interface. Is this a phone you'll want to reuse? Or just recycle?
Is It Your Type?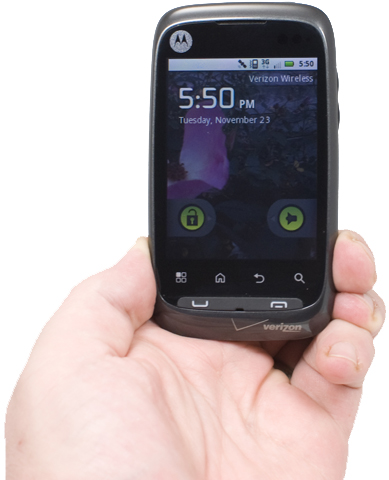 Is the Motorola Citrus the smartest green phone on the market? Or the greenest smartphone? In either case, this phone packs Android 2.1, with Motorola's interface tweaks, into a neat little round package that has less impact on the world around us. So will it make an impact on you?
dang
We just started selling the Citrus in my store, and I've only really shown it to one customer so far. We didn't have issues trying it out. It may have helped though that she was a brand new touch-screen user, and typed slow enough for the lag to not be an issue. so as far as i could tell from my demo, the phone really isnt that bad. I can bet that for an experienced user, though, it's not the phone you want.
I purchased this phone and used it for a week, and like the review, about the only thing good about it was the fact that it had clear call quality.
I took it back to the verizon corp. store and the rep started to mess with it to see why I was having ...
(continues)