Review: Samsung Continuum
Form Basics Extras Video Tour Wrap-Up Comments 3
Is It Your Type? Body The Three S's Touch
Screen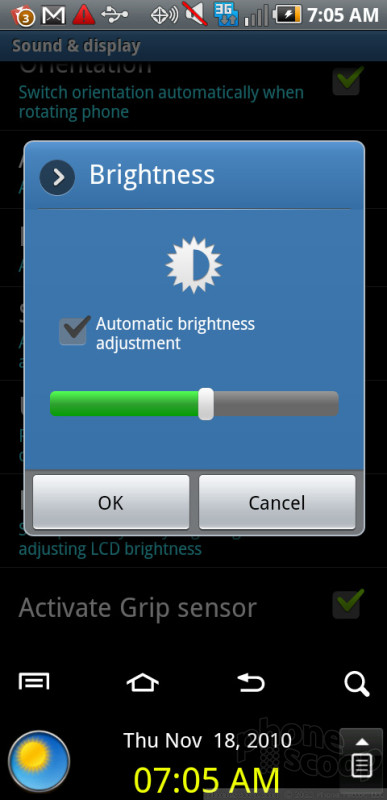 Samsung's super-AMOLED displays are the best screens you can find on a smartphone today. The display is dazzling and rich in detail. The extreme contrast produces black backgrounds that are inky and deep, with colors that pop off the screen. The screen did fade a bit outside on a sunny day, but it was still easy to read even under a harsh glare. Because the 3.4-inch screen on the Continuum uses the same number of pixels as the 4-inch screen on the Fascinate, it has a higher pixel density, which makes the screen look even sharper. Indeed, I had to hold the phone very close to my face to see any jagged edges in rounded shapes, and text looked fantastic.
Sound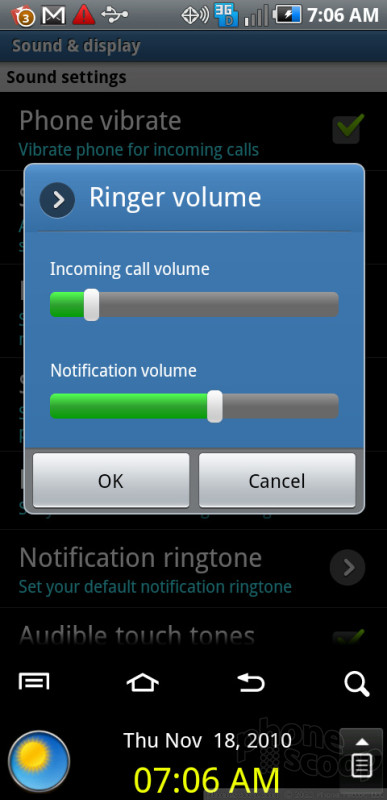 Sound quality during calls on the Samsung Continuum was mostly good. I heard occasional static crackling in the background, but voices were usually clear. When reception dipped, callers could have a slightly digitized sound to their voices. The overall tone was a bit warm and bass heavy, but not unpleasant. Callers reported fine sound quality, with no static problems on their end. The ringer on the phone could use a volume boost. It was loud enough to hear from another room in the house, but tucked into a crowded pants pocket, I couldn't hear the ringing over the din of my local shopping mall.
Signal
The Samsung Continuum maintained a steady connection to Verizon Wireless' 3G network, but the connection could be slow at times. When bars dipped low, I heard more sound problems during calls. In general, data speeds were never very impressive. My speed test scores were usually well below the 1Mbps mark, and Web pages loaded slower on the Continuum's browser than on any other Verizon Wireless smartphone I have on hand, like the Motorola Droid Pro.
Battery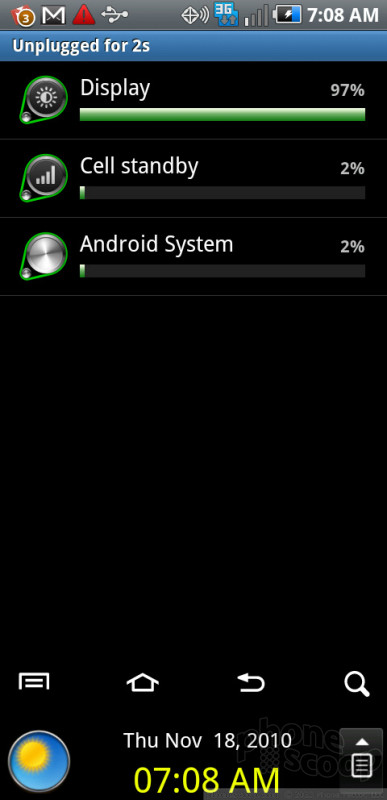 Battery life on the Samsung Continuum wasn't great. When I left the ticker constantly updating with social networking messages, the phone would run out of battery life right after lunch time. Turning off most of those updates, especially Twitter and Facebook, helped cut down on the drain, but there is no doubt the ticker takes its toll on the phone, even with the large, 1500 mAh battery inside. Of course, if you rely on the ticker more, and don't turn the screen on at every new message, you'll save some battery time, but you'll want to keep a charger handy at work just in case the phone dies before your ride home.