Holiday Gift Guide 2010
Intro Staying Connected Dedicated Devices Budget Minded Comments 3
Nov 17, 2010, 2:00 PM by Eric M. Zeman & Philip Berne @zeman_e
Phone Scoop searched high and low to find the widest selection of devices for every carrier, every phone preference and every budget for 2010. Need to pick a gift? We did the hard work for you.
AD article continues below...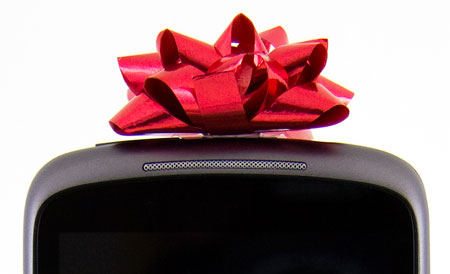 Tis the season for egg nog, family gatherings and holiday celebrations. In between all the year-end activities with family, friends, colleagues and loved ones, finding the time to shop for said special someones can be hard to lock down.
In order to make your life easier, Phone Scoop did all the heavy lifting when it comes to picking out the very best cell phone for those on your list. We've looked long and hard at what AT&T, Sprint, T-Mobile, Verizon Wireless and the top-tier pre-paid operators are offering and picked the best of the best.
None of the phones on our list is more costly than $200, and in fact, many are well under $100 and even $50. This year, we took special care to dedicate an entire section to the best phones that are available for free on each carrier. In other words, if you're on a budget, devices have never been cheaper and you shouldn't have to shell out too much cash to get the device of your recipient's dreams. Keep in mind, however, that prices change frequently, and last-minute sales could pop up.
As in years past, Phone Scoop sorted selections based on carrier. Phone Scoop understands that many people choose their carrier before they pick a phone — whether it be for coverage, pricing, or family plan considerations. We're not suggesting carriers in this holiday guide — that's up to you. We're suggesting the best phones for each carrier.
Each of our three main sections — Staying Connected, Dedicated Devices, and Budget Conscious — is broken down further into subcategories that details how phones might be used. We know that the best way to pick a device is to know ahead of time how it will be used.
For example, know some one who is a textaholic? We have a nice selection of QMDs (quick messaging devices), each with a keyboard for pecking out missives (no, not pecking under the mistletoe). Does your older sibling have the largest MP3 and digital movie collection ever? Then perhaps a device that excels at media playback would be best for him or her. As long as you know the person you're shopping for and what they tend to like, you should have no problems picking the right carrier and the right phone.
Last, we'd be remiss if we didn't suggest that, once your loved one or lifetime friend has fully transitioned to their new phone, their old one be properly recycled. If you want to know anything about phone recycling, from reasons to do it to where to take your phone, check out our Cell Phone Recycling Guide.
Dell venue pro
Please don't call t-mobile for this phone, we don't actually sell this phone. We offered it to microsoft employees with a special promo code...
Have to disagree
I can't believe that you picked the Moto Charm for budget minded t-mobile customers over the highly praised Optimus T. Are there any specific reasons?
Read our in-depth reviews. We liked the Optimus T, but it had some issues, like really poor camera and not-great touch screen. The Charm had its own issues, but less of them, and we liked the physical keyboard and Blur software.