Review: Motorola Droid Pro
Form Basics Extras Video Tour Wrap-Up Comments 5
Is It Your Type? Body The Three S's Touch
Nov 15, 2010, 9:04 PM by Philip Berne
The Motorola Droid Pro offers a form factor that will be instantly familiar to BlackBerry users, with all the social networking goodness Motorola brings to Android. Does the Droid Pro offer the best work / life balance?
AD article continues below...
Is It Your Type?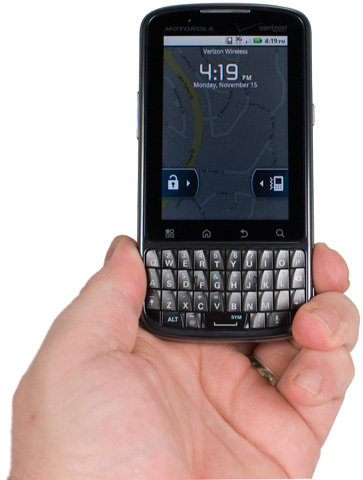 The Motorola Droid Pro is the Droid to entice BlackBerry owners to join the Android family. It's a small Android touchscreen phone up top, with a BlackBerry-style QWERTY keyboard beneath. Even though it borrows from the BlackBerry playbook, can this Droid score on the business field?
Phone first computer second
After reading about the call quality issue I do not see how the Pro can get a passing grade as a phone. Is it not a phone first and a computer secondly?
But this is a PDA, not a phone. There are companies out there that use blackberries more for Data Assistants than phones.

This is a corporate aimed device. Sure, phone capabilities are important, but my company communicates more by txt and emai...
(continues)