Review: LG Octane
Form Basics Extras Wrap Up Comments 3
Is It Your Type? Body The Three S's
Nov 11, 2010, 1:52 PM by Eric M. Zeman
LG's latest clamshell messenger phone claims to have high "Octane" performance. Does the phone earn its race-inspired name?
Advertisements article continues below...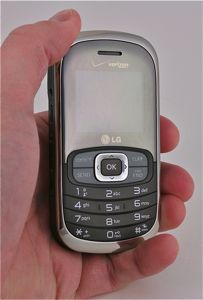 The Octane is the latest messaging phone from LG that offers the messaging-minded user a full QWERTY keyboard on the inside, with a standard numeric dialpad on the outside. The Octane includes some definite improvements over the discontinued enV line, such as a larger external display with added functionality. LG also managed to carry forward the same missteps to what is now the fifth generation of this form factor. Do the new benefits outweigh the lingering problems?
Great 1st phone for my teenager
I bought this phone for my son because of the huge keyboard. My son texts me when school is out so I know where to meet him. These kids are now experts with mobile devices! I had to limit his capabilities by having VZW turn off the internet.
thank you for finally reviewing
I've had these in my store for a couple weeks and haven't been very willing to sell them without knowing how they actually act in the real world. knowing that they excell in messaging and reception is great knowledge to have especially where i live
corrections
The Octane still has a favorites key. It's the shift key, with the icon of a contact with a star above the word shift.
Also, the env3, which is still available, does provide threaded text messaging with the "view by contact" option in the message settings menu.