Review: T-Mobile myTouch 4G
Form Basics Extras Wrap-Up Comments 7
Is It Your Type? Body The Three S's
Nov 3, 2010, 8:49 AM by Eric M. Zeman
T-Mobile's second HSPA+ smartphone is the HTC-made myTouch 4G. It follows an evolutionary path as far as the myTouch line goes. Is this the best version yet?
Advertisements article continues below...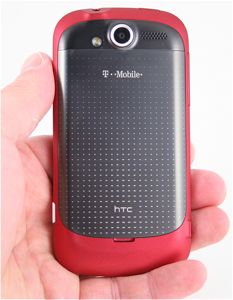 The HTC-made MyTouch 4G is the latest evolution of the myTouch line, and clearly the best. It improves upon nearly every feature compared to the last two versions of the phone, and notably adds HSPA+ to the mix. If you're a slab-phone phan, er, fan, and can't wait to take HSPA+ for a ride, the myTouch has a lot to offer.
great review.... BUT
When using the WIFI for calling or internet or when using the voice turn by turn navigation (Which is way cool cause it's free), you can literally watch the battery drain. That was my experience in the two days i owned one. Took it back and am waiting until the release of the the bold 9780.
You know what my problem is...
Is that this phone is so god damn ugly! HTC Expresso interface = YUCK!!!! Who's idea was it to put bubbles around the icons??? It's horrible. They should have just put Sense instead of patronizing T-Mo customers by creating their own customized UI.

Such great specs wasted too. Second generation 1GHz processor, Front facing camera, Sony Super LCD, HSPA+. The target audience of the MyTouch series doesn't give a crap. The MyTouch line was designed to be midrange and these are high end specs.

If T-Mo were smart enough they should have put all of these features onto the G2. Then they would have created the perfect phone giving the Epic a run for it's money. But nope as usual T-Mo misses the the mark.

I'll stick with the Vibrant for now....
(continues)
Front Camera and DLNA?
Did I miss it or did the review forget to mention the front facing camera, or the DLNA streaming?

The fact that it sports a second generation Snapdragon processor with the newer video cards would be nice too.

Really a beast of a phone.
Great review.
I got this phone in yesterday morning and completely agree, HTC has done a bang up job on this phone.

I was a little disappointed with the camera myself, though I am currently comparing everything against the iPhone 4. Everything else is super speedy and very well done.

Even though I am an iPhone fanboy, I kind of like the punch T-Mobile took at AT&T/Apple with their new AD this morning... pretty funny!
justfinethanku said:

Even though I am an iPhone fanboy,
At least you admitted it. Good for you. That's the first step towards recovery.
I agree. Great review. I got to test it today at a store that carries phones from multiple carriers. At first, I was not impressed when I saw it next to the others like the iPhone and other Samsung and HTC models, but after playing with it, I notic...
(continues)