Review: BlackBerry 9670 Style
Form Basics Extras Video Wrap-Up Comments 2
Is It Your Type? Body The Three S's
Oct 28, 2010, 3:37 PM by Eric M. Zeman
Phone Scoop takes an in-depth look at RIM's latest BlackBerry for Sprint. The 9670 Style sports a clamshell design yet still offers a full QWERTY keyboard.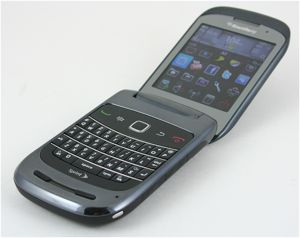 RIM's latest BlackBerry is a bit of a departure for the smartphone company. The Style is RIM's first flip phone with a full QWERTY keyboard and BlackBerry 6 on board. Those seeking a compact smartphone that offers all the power of larger models in a decidedly teensier package could do worse than look at the BlackBerry Style.
Touch screen
The article states that it's unfortunate that there is no touchscreen like the torch to take advantage of functions like "pinch-to-zoom", "double-tap", etc.

I read an article that stated the trackpad allows these same gestures (slightly modified) by using the "alt" key with them. I believe it said something like if you hold the "alt" key and swipe up on the trackpad, it will zoom in. Can you confirm?
the external screen is touch srcitive for some commands. not as good as tourch or even close but not bad either for what it does.