FCC Reveals a Nokia CDMA Dual-Slider
Article Comments 12
Apr 20, 2009, 10:47 AM by Eric M. Zeman @phonescooper
updated Apr 20, 2009, 3:02 PM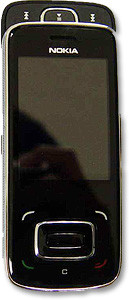 Documents seen on the FCC provide some information about an Nokia device that is a dual-slider. The phone has design language similar to Nokia's N Series multimedia devices and has similar features, according to the draft user manual. The FCC confirms that it has CDMA EVDO Rev. A and Bluetooth. The draft user manual says that it has Bluetooth 2.0+EDR, with support for A2DP and an FM radio. A camera is clearly visible on the back of the phone with "3 megapixels" written next to the camera and flash module. The draft user manual says it can also record video. The phone also has a 3.5mm headset jack and support for microSD storage cards.According to Nokia, this phone is the 8208, and is likely headed to the Chinese market. It won't be sold in the U.S.
why does it get FCC approval if it wont be in the US
why would they go thru the trouble? the FCC has nothing to do with china.

im hoping VZW will get one of these 🙂
We are getting this. Its part of out line up of phones.
just seen it for a chinese carrier thats all. More than likely it will go to VZ nokia only makes CDMA phones for a few carriers VZ n Metro PCS
S60?
I wonder if this will be an S60v3 CDMA phone, as far as I know, none exist?
Don't see why not - it looks like the N85 or N96. Very spiffy.

I can't imagine Verizon would allow an S60 device on their network (at least, not through their official channels), but it might be possible for Sprint to do so. They're not nearly as...
(continues)
No N Series
Even if it has a N 95/96 look thanks to teh dual slide, it's not a N series which carry exelence in multimedia with, among other, Carl Zeiss type of camera.
Seen it
I seen this a while ago but for a chinese CDMA carrier. Its a cool phone but im pretty sure its just S40 though