Review: BlackBerry 9330 Curve 3G
Form Basics Extras Wrap-Up Comments 6
Is It Your Type? Body The Three S's
Sep 20, 2010, 8:49 PM by Eric M. Zeman
Research In Motion refreshed the Curve line with the 9330 Curve 3G, which is offered by Verizon Wireless. The Curve 3G has a better keyboard, but the same display and camera as its predecessors.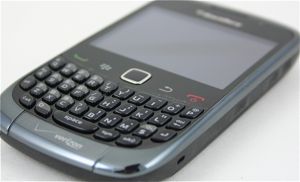 Research In Motion has taken the 8530 Curve, added a new keyboard and outer shell, and re-christened it the 9330 Curve 3G. For the entry-level smartphone user that's more interested in the messaging experience than the media experience, it makes perfect sense.
Period Issue
On most of the Blackberry reviews the reviewer always list the same issue of having to hold the ALT key in order to type a period.

Anyone familiar with Blackberry's knows to type a period you just hit the space bar twice.
We're certainly aware of that. Did you read the next sentence? 😉
RIM's double-tap-the-spacebar trick isn't very helpful when entering URLs because it adds a space after the period.
Beating a Dead Horse
Why Won't This Device Go Away!

There is so much better out there than the BB Curve family for the same money or just a little bit more. Unless your job requires you to have one as in they gave you one and they are invested in the blackberry servers then forget it.
MadFatMan said:

Why Won't This Device Go Away!


Because it's excellent and people love it.
Not everyone needs, wants, or can afford the higher-end models. Every product lineup needs a low end, or the high-end models wouldn't be high-end, now would they? 😉