Review: Motorola Charm
Form Basics Extras Wrap-Up Video Tour Comments 6
Is It Your Type? Body The Three S's Touch
Sep 9, 2010, 7:20 PM by Philip Berne
The Motorola Charm packs a strong Android punch into a mini QWERTY slab shell. Will its charms sway you from noticing the low res screen?
Is It Your Type?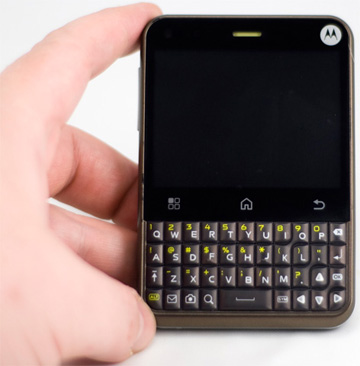 The Motorola Charm is a compact Android slab with a keyboard up front, instead of hidden away beneath. It's a unique form for Android with some powerful ideas inside. Will the Charm cast its spell on quick messaging and BlackBerry fans alike?
Linked keys?
Any idea of what the purpose of the 3 sets of linked keys on the right side are? Aesthetic choice by Motorola I guess?
BackTrack
If the Charm is sensitive to touch from the back as well as the front, how do you stop it from dialing or doing other things when it's in your pocket?
Why would it be any different than a phone with just a touch screen on the front?

Like all phones with exposed keypads and/or touch surfaces, it has a lock/unlock feature.