Review: Sony Ericsson Xperia X10
Form Basics Extras Video Wrap-Up Comments 23
Is It Your Type? Body The Three S's Touch
Aug 24, 2010, 3:33 PM by Eric M. Zeman
Sony Ericsson brings its first Android handset to AT&T with the Xperia X10. While it shines in some places, the X10 is quite dull in others. Find out where it excels and where it falls flat.
Advertisements article continues below...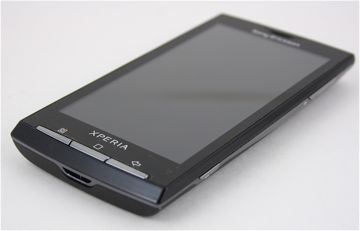 AT&T has added the Xperia X10 to its slowly growing arsenal of Android phones. The X10, made by Sony Ericsson and first announced in October 2009, doesn't break any new ground in terms of physical design. It does, however, go further than many other Android handsets when it comes to Sony Ericsson's unique user interface software. The software definitely makes the X10 stand out in AT&T's cluster of Android smartphones. Is that alone enough to make it a contender?
Update?
I heard rumors that this phone is being update to android 2.1 or possibly 2.2 during the fourth quarter this year and if it is true does anyone know what are the possible updates for it?
Packaging?
Who packages SD cards (and other accessories) with the phone? This article claims the carrier does, is that the case?
Not quite sure... As long as I know, the phone itself comes with a Micro SD included (don't remember if it's a 4 or 8GB), but it was included by SE itself... At least in Latin America, Europe & Asia...
I bought my X10 from SonyStyle and it not only was cheaper than getting it through AT&T ($129.99 vs. $149.99) but they also gave me a 8GB Micro SD, there was a 2GB in the device in the packaging. In short I ended up with a 8 and a 2 GB memory card. Th...
(continues)
Email accounts
I see that there is only 2 accounts you can have. One gmail and one pop. Is this true???? if not can someone tell how I setup my other email accounts
There are three different email apps, Gmail, pop/IMAP, and a work email (exchange) app.
Too Late
Sorry Sony while this was an amazing phone when it was first announced, almost a year ago, its just average now. The phone should have been released 6 months ago. And releasing it with 1.6 is just unacceptable. You are crippling your customers who will not have access to a lot of the newer apps. 2.2 has been out for a few month and 2.1 has been out for even longer, there is no reason it should have 1.6 on it. Sorry I'll stick with my Vibrant which is 100x better than this.
Don't blame SE, blame FCC... They held permissions for this phone for around a year...
what?? no comparisons to the iPhone???
haha... j/k

you already know you can't win with some of us! 🤤

have a good day!
The only reason this phone is not compared to iPhone is because this SE is outdated (because of FCC), but let's see what happens with Android 2.2 on this device...
No Video?
How come no video?
bluecoyote said:
How come no video?
Yes! We need video!
I had a chance to play with the X10 at a local Sony Store--it's the best looking/feeling piece of hardware I've ever laid eyes on.
FCC´s fault
This phone was supposed to be released like a year ago, when it first came to Japan, or at least, to Latin America... But guess what??? For some reason FCC holds permissions to Sony Ericsson (BTW, I`m not a SE enthusiast, yet, I don`t consider it fair to blame SE nor AT&T for releasing this device this late...)

Still, great phone! and greater with Android 2.2, next month!!!