Review: Motorola Droid 2
Form Basics Extras Video Tour Wrap-Up Comments 11
Music Camera Image Quality Browse / Customize Extras
Bluetooth
Most Bluetooth features worked well on the Motorola Droid 2. I had no trouble pairing my headset with the phone, and calls sounded fine. As I mentioned in my calling section, I did have strange trouble getting voice dialing to work, and this was never resolved. Stereo Bluetooth worked well, sending music to my favorite Bluetooth speakers. I also had no trouble sending picture files over Bluetooth to my laptop.
Clock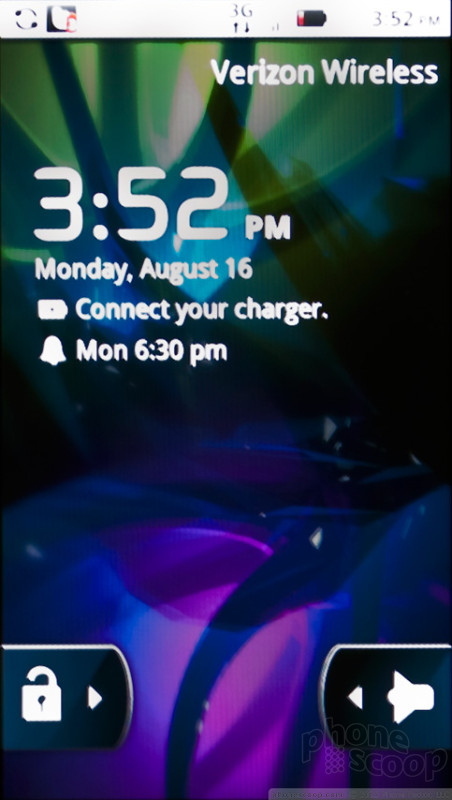 There are a lot of solid clock options on the Motorola Droid 2. There's a nice clock on the lock screen that you can check without unlocking the phone, and another in the menu bar. There are clock widgets that you can customize. There is an alarm clock, timer and stop watch all built in. If you spring for the dock accessory, you even get a bedside mode that gives the Droid 2 interface a look that is friendly for the bed table.
AD article continues below...
GPS
Verizon Wireless sticks with the included, free Google Maps for navigation on the Motorola Droid 2, and it works well. The app did a fine job finding my location and directing me on my travels. I especially like the navigation shortcut option that is part of the contact widgets on the homescreen. With one tap, you can start a trip to any of your favorite friends. If you need more location-based services or travel help, there are dozens, if not hundreds of apps available in the Google App Market to satisfy your GPS needs.
Other Extras
The Motorola Droid 2 comes with Wi-Fi hotspot support. With a few taps, you can set up the phone to generate its own Wi-Fi hotspot. The service costs an extra $20 per month, which seems a bit steep. The Google Nexus One on T-Mobile offers this feature for free as part of the Android 2.2 system, while on the Droid 2 the feature gets its own app, and it's own price. Even on Verizon's Palm Pre Plus, this option is free. The service worked very well in my tests, and I was able to connect a handful of devices to the phone for a network connection.