Review: LG Vu Plus
Form Basics Extras Wrap-Up Video Tour Comments 6
Is It Your Type? Body The Three S's Touch
Jul 1, 2010, 11:47 AM by Philip Berne
The LG Vu Plus is one of the only phones that works with AT&T's Mobile TV service, but does that make it entertaining? Find out in our review.
AD article continues below...
Is It Your Type?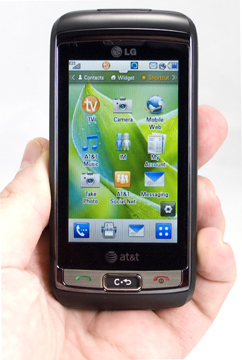 The LG Vu Plus takes the Vu formula and adds a generous keyboard. Though it doesn't upgrade the specs significantly, the phone does feature an improved interface and more megapixels on the camera sensor. With AT&T's Mobile TV service, I took a long look at this phone for mobile commuters who want plenty of entertainment without the smartphone complexity.
Density...
I'm not sure about this whole 'heft is good!' thing...as long as it doesn't feel like it's going to fall apart in my hands, I don't care if it's a light phone. My phones go in my pocket. I don't want an anchor dragging me down.

Great review. Nice handset.
I'm not saying the phone needs to weigh more. When a phone is large and light, it can feel cheep. If it were the same weight but smaller in size, it would feel more dense, which is a good thing.
Oh, and PS--
...that keyboard looks great.
Tell us how you really feel about the phone....
lol

most scathing review I've read yet!
justfinethanku said:
lol

most scathing review I've read yet!
Someone I can't help thinking this handset would be just fine for just about any user.