Review: iPhone 4
Form Basics Extras Wrap-Up Comments 100+
Is It Your Type? Body Three S's Touch
Jun 24, 2010, 10:54 PM by Philip Berne
In-depth with the latest from Apple.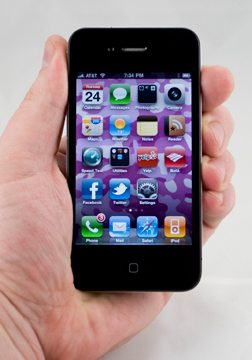 The iPhone 4 brings some long-awaited features to the iPhone table, without trying to do everything the competition can do. The interface, the screen and the camera have all been dramatically improved, but will these be enough to keep Apple at the top of the super-phone pile? With Apple, it's always the little things that count.
Verizon rumors for iPhone? Anyone? Please share!
I read on facebok.com/iphone4 today that VZW will launch iPhone 4 in January. Is this true?

Can anyone conform this?
Whoops http://facebook.com/iphone4
ZAGG protective coating to help with reception?
What do you think?

If the wdges are covered by a plastic coating wouldn't that keep the two antennas from shorting each other?

Has anyone installed ZAGG's invisibleSHIELD on their iPhone 4 or know someone who has?

Btw, a good place for ZAGG discount codes is facebook.com/zaggcodes or codes4discount.com
Http://facebook.com/zaggcodes and http://codes4discount.com
It all comes down to this.....
Your opinion!!!! 😲 😲 😲 Really? You mean there isn't a #1 device out there? Lol! Good review Phil and Rich, I liked it!

I feel it all comes down to opinion. You really have to look at the user and decide what the device is used for. If you like to personalize your device, mulit-task (for real), run widgets, ect., then maybe Android is for you. (If you are and Apple fan-boy, then maybe you should stick with Apple, JK guys!) If you like the integration of iTunes, ease of use, and gaming, then maybe the iPhone is better for you. In different parts of the world Nokia's Symbian OS would crowned king in some eyes.

Again, IMOP, this is a nice piece of technology, and I think its up there with the other N1s, EVOs, and Droids in the indust...
(continues)
Review
Seems someone is not a big Apple fan.
How did I know someone would say that 😈
I never understood this logic, when did Apple become a deity and if someone has anything negative to say they are a heretic? Apple has it's flaws like everyone else and obviously so does the most recent incarnation of the Iphone. I love Apple products...
(continues)
When it comes to voice, the signal performance rated no better or worse than the 3GS. That's not a compliment. In just a day of use each, we both experienced multiple dropped or failed calls. Color us unimpressed.


No more like just pointing out i...
(continues)
tmslade said:
Seems someone is not a big Apple fan.
You say that like it's a bad thing.
this isn't exactly a sin 'ya know; steve is a mere mortal after all.
OMG!!! Someone pointed out the flaws in the device yet still said it was a phone you should get. They must be evil. Anyone who points out facts must not be a fan!

Sad that Apple carries this magic presence that its followers get rabid any time s...
(continues)
Didn't Like Design?!
Wow... can't believe you were so down on the design. The feel of the glass and metal gives me the perception of a fine watch. I've suffered through many a creaking battery door, 'soft-touch' devices where the rubbery stuff rubs away with use, and just plain cheap feeling. The T-Mobile G1 probably wins in the poorest of build quality for a smartphone.

The iPhone-4 though is the best -- I've never held a device that felt so rich. Elegance oozes from the look and feel of the device. I got one of the overpriced bumpers, which in their own right are quite well designed and built, but when it's on, I miss that metal band -- hate to cover it up, though the iPhone looks great with that as well.

I'd say this device needs protection when ou...
(continues)
This is definitely a personal thing, and I know that I'm in the minority. I did not like the design, but I think Rich called it an "instant classic." I tried to explain objectively why I did not like it, but ever since we all saw the leak on Gizmodo, ...
(continues)
I have to agree that I cannot see how someone could not like the design of this phone. It is easily the most finely crafted cell phone, if not the most finely crafted piece of electronics period, on the market today.
Tamarai said:
Wow... can't believe you were so down on the design. The feel of the glass and metal gives me the perception of a fine watch. I've suffered through many a creaking battery door, 'soft-touch' devices where the rubber
...
(continues)
I agree that wether or not you like the design is definately a matter of personal taste. Personally, I think the phone looks nice. I don't know that I'd call it an "instant clasic" or anything like that, but it looks nice.

The problem is that this ...
(continues)
checked one out in the store, and i didnt like the design also, it felt to much like a mp3 player of some sort, and the screen looked nice, but felt kinda to small..over all the design felt like something that has been out before didnt feel like nothi...
(continues)
i agree on the design as well, just doesn't look like much; pretty plain actually, looks it's made by samsung or lg. the original still looks good. this one suffers from a small screen which is made
odvious by the large bezel. i don't care how 'ric...
(continues)
So the smart choice would be..........
SPRINT HTC EVO! 😁
geez...

I'm glad you like your Evo.

Enjoy sprint. 🤣
My take
I thought the writer did a fantastic job in reviewing this device. I thought he was very fair with his assessment, and came across as an unbiased user, which is what you want in a "reviewer". He praised all of the things the iphone does real well (music, video, ease of use, etc...) but highlighted where this phone was lacking.

First off, I tend to agree with the author on the design of the phone. I've always been a huge fan of the iphones, and while I'm still getting the phone (waiting on the white) I'm not thrilled with the design when testing out my friends phone. I'll deal with it though.

As far as image quality - I was happy to hear that the authors tests came out great. I had compared image and video quality on my 3Gs vs the ...
(continues)
My take!


The phone is a train wreck! 🤣 🤣
multi-tasking - I tried running/listening to my AOL Radio app, but as soon as I switched to another app (calendar, safari) my radio feed just ends. Umm?

the app must be first updated to the latest available update, if they have not updated to the e...
(continues)
Social Networking and integration...
Although I definitely see where you're coming from about apps being able to integrate with the OS, in some ways, I'm really glad Apple doesn't let it happen. I remember carrying a Windows Mobile phone, which was pretty customizable for the most part, but a lot of times when those intergrations were made, it hurt the performance of the phone in a big way.

I can see why Apple doesn't want Apps to come close to hurting performance. Apple doesn't want to be blamed for a program messing up their phone...because on the consumer side, it won't be, "Awe man, that App made my phone run slow" it will be, "My phone runs slow."

And to be honest, I'm also glad those apps don't come preinstalled. One of my biggest problems with smartphones is givi...
(continues)
To paraphrase an iPhone carrying friend of mine when discussing the lack of multi-tasking on the devices.

"If I want to bog down my device by running social networking apps integrated with my OS that should be my decision, not Apple's."

Just my...
(continues)
There's a whole lot of social networking integration that could be done with zero impact on performance. Just a one-time import of your Google and Facebook contacts when you set it up would be very nice. Most of the competition has that.

Apple does...
(continues)
browser speed comparison
how would you compare the browser speed of the iphone 4 with a nexus one running 2.2?
In my side-by-side tests, the iPhone 4 was always faster than my N1. This could be due to faster networking performance on HSDPA or faster Wi-Fi with 802.11n, or something else entirely.