Review: Samsung M570 Restore
Article Comments 2
Jun 22, 2010, 6:31 AM by Eric M. Zeman
Samsung recycles its attempt at bringing a recycled (and recyclable) phone to Sprint. Does the Restore restore our faith in Samsung? Find out if this sideways slider really has us seeing green.
Advertisements article continues below...
Form
Is It Your Type?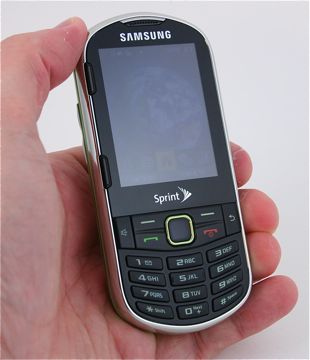 Do you identify yourself as an environmentalist? Do you pride yourself on living a "green" lifestyle? Is sustainability important to you? If you answered yes to any of these questions, then the Samsung Restore is a phone you should look at. It offers a mix of messaging and social networking features in a reasonably good piece of hardware.
Body
The Samsung Restore is a sideways slider made from recycled materials. Samsung uses this form factor in a lot of its less-expensive feature phones. The length and width are good, though it's a bit thick for my tastes. It has a medium weight. It isn't too heavy, but you'll know it is in your pocket with the combination of size and weight. The plastics are smooth and a bit slippery. I nearly dropped it a number of times when attempting to open the slider one-handed. The Restore does avoid something that other recycled phones fail at: The Restore's materials don't feel cheap. The overall construction seems to be a level above what we saw in the Reclaim, Samsung's first recycled phone for the U.S. back in summer 2009. All the seams are nice and tight, and it is well manufactured.
The display takes up about 60% of the front face of the Restore. There is a navigation cluster and numeric keypad crammed below the display. There are six buttons in the control cluster, plus an optical trackpad in the center for navigation. The optical trackpad works pretty well, though I found it to be a bit too responsive. It was too easy to overshoot things when navigating on the screen.
There are three buttons on each side of the trackpad. The speakerphone key, send key and soft key are on the left, and the back key, end key and soft key are on the right. All six keys have perfect travel and feedback. The speakerphone key and back key are placed on the outer edges of the Restore, and the send/end and soft keys are stacked next to the trackpad. They are all big enough that they are easy to find and use.
The numeric keypad is wider than it is tall, which means the keys are "dash" shaped. They are big dashes, though. All 12 keys are well defined and have excellent travel and feedback.
The Restore slides open to reveal a full QWERTY keyboard for messaging. The slider mechanism is OK, but not the best I've used. It feels a little stiff, and the spring assistance doesn't kick in until it's nearly all the way open.
The keyboard itself feels great. There are four rows, and the keys have a great shape to them; perfect little domes. They have a soft-touch feel to them, which means your thumbs won't slip from key to key. The travel and feedback of the keys is very good. I wish the top row were reserved strictly for numbers, alas, they are shared with letters. On the bottom row, there are shortcut keys to launch the browser and initiate a text message. There are also "WWW." and ".COM" buttons for quicker URL composing, though they are shared with the question market and period, respectively, which means you have to use the function key to get the www or .com to show up. There are arrow keys for moving the cursor around, a dedicated "@" key, and an emoticon shortcut key.
The volume toggle is on the left side. It works just fine and is easy to find. There is a dedicated camera key on the right side of the phone. I had no problems with it. There is a 3.5mm headset jack on the right side, as well, though it is covered with a hatch. I find hatches to be unnecessary for headset jacks. It was annoying. There is a also a hatch covering the microUSB port on the top for charging. It peels off easily. You have to remove the battery cover (but not the battery) to get at the microSD slot.
The Three S's
Screen
The Restore has a 2.4-inch display with 240 x 320 pixels. That makes it as average as a display can get in terms of both size and resolution for a non-touch device. You're going to notice pixelation of text, graphics and icons here and there, but it's nothing terrible or distracting. Colors look good, and I never had any trouble reading text on the display...unless I was outside. The sun obliterates the Restore's display. I even had trouble reading the screen in a bright room.
Signal
The Restore performed better than average when compared to other Sprint phones. It nearly always displayed a full signal and only rarely dipped down to one or two bars. I never had trouble making or receiving phone calls, and the Restore didn't drop any calls, either. In travels around the metro NYC area, the Restore held up quite well.
Sound
Unfortunately signal performance didn't equate to crystal clear phone calls. Many of the calls made with the Restore had a "digital" sound to them. There was mild hiss and noise audible every so often, and I had a nasty echo at one point that forced me to hang up and re-dial the call. Those with whom I spoke on the phone reported sound issues, as well. These problems became amplified with the speakerphone. I would not conduct a business meeting with the Restore, that's for sure. Too much noise, not enough volume. Earpiece volume was not quite good enough. The ringers and other alert tones were acceptable, though I'd prefer if they could be louder. Set to their highest levels, it would be possible to miss a call or a text message in a noisy environment.
Battery
The Restore's battery easily made it through three days. I was very pleased with the battery performance. My guess is if you really step up text messaging to hundreds sent per day (as opposed to the several dozen that I sent/received), you'd eat into the battery life some, mostly because the display will be on that much longer. Bluetooth use appeared to have no effect on battery life at all. You could easily make it through a weekend on a single charge.
Basics
Menus
The Restore uses Sprint's One Click user interface. The base home screen has a carousel running along the bottom of the screen. Using the trackpad you move sideways through this carousel to access different menu items. As you pass over each item, a list of options appears above it that you can choose from. For example, if you scroll over the messaging icon, you'll get a list of different things to choose from, such as going to your inbox, initiating a new message, etc.
The carousel itself is fully customizable. You can add or delete icons at will, and move them around to an order that suits your needs. As with all One Click phones Phone Scoop has tested, there was a bit of a lag when scrolling from icon to icon.
The carousel items are meant to serve as shortcuts to sections of the phone. The Browser icon, for example, lets you choose to open the browser, see your recent history or go to your bookmarks. This lets you jump straight to the web page you really want to go to rather than launching the browser first and then scrolling to your bookmarks or history.
One carousel item is Google. When you scroll to it, it opens a Google search bar, and below that are links to Google Maps, Gmail, and several other Google services. This is a nice touch to have built in mobile search capabilities.
As is common to Sprint phones, there is a carousel item for your favorites. This lets you populate a bunch of shortcuts to action items or applications.
There is also a full regular menu that houses all of the phone's applications and services. This larger menu appears in a standard list or grid view.
Different from other One Click devices, the Restore has a carousel item reserved for green(er) living. This menu item houses a number of applications and services that teach users how to conserve energy and be aware of their impact on the environment.
One Click eliminates a lot of the digging around in menus that is necessary in Sprint's entry-level feature phone user interface. One Click does actually make finding the phone's features faster, even if not in "one click." The user interface hasn't seen a significant upgrade or change since its introduction several years ago.
Calls/Contacts
Calls
Ppressing the green send key brings you to a list of your recent calls. Numbers that are stored in your contacts display the name and what type of phone call it was (work, mobile, home). With any number highlighted, pressing the send key will call the number. Pressing the tackpad will open up information about the call, and show you recent correspondence with that person, including text messages and emails. Being able to see all correspondence from a signal contact in one place is a nice feature. The right soft key acts as your entry to calling options. You can view contact details, the main menu or your entire contacts list during a call.
Contacts
The contacts application can be reached from the home screen in several different ways, including using the right soft key. Each contact can hold a bevy of numbers, email addresses, URLs, IM screen names. You can assign ringer and picture IDs at will.
The Restore is another phone that uses the "secret" function, which has been built into the contacts application. You can choose to make a detail's contact information secret. This means the contact can still be seen in the list, but the actual details (i.e., their phone number, email address, etc.) are not displayed. In order to access secret contacts, you need to use the phone's unlock code. This means you can protect your loved ones contact details if you wish, or simply make sure that certain people's information in unavailable to anyone who might pick up your phone.
Messaging
The Restore offers SMS, PictureMail, VoiceSMS, and Email. IM has, apparently, been nixed. IM appeared on earlier One Click phones, but is not present on the Restore in any form.
Text messaging is always the default messaging mode. There's plenty of real estate to get all 160 characters of a message onto the screen without having to scroll around. The full QWERTY keyboard is great to type on, and it offers some ways to customize input, such as predictive text mode. The predictive text mode is a nice feature to have, even on a QWERTY-equipped phone. It lets you jump through long words faster as the software figures out what you're trying to say. It cuts down on the number of keystrokes.
If you failed to address the message to everyone you wanted to, it is easy to go back and do that after you've typed up the message. You can also insert pictures after the fact to turn it into a Picture Mail message. One Click incorporated threaded SMS from day 1, and the Restore is no different. Given all the different ways we reach out to one another, threaded messaging is a must-have feature.
Configuring a POP3 email account was easy. AOL, AIM Mail, Hotmail, Yahoo, Gmail and "Work" and other IMAP or POP3 account are all supported with the on-board email client. The "Work" email lets you configure an Outlook Web Access account, meaning you can retrieve company email via the Web if you want to.
The mail application also lets you jump from one email account to another with relative ease. Rather than having to dig back through the email application, you can use the option key to change accounts easily.
One Click has made several advancements on the social networking front. Facebook, Twitter, and MySpace apps/clients are all present and accounted for. I can't say they are the most robust social networking apps on the planet, but they let users handle the basics with ease. In other words, updating your status is no big thing. Anything beyond that, however, and you're going to find the Restore is a bit weak.
Extras
Music
Sprint is in the middle of re-vamping its online music store. Historically, it has used Groove Mobile's mobile music service, but that has changed. During testing, Sprint's music store was completely unavailable due to the revisions taking place behind closed doors. That means I was only able to test the on-board music player.
The Restore's music player falls into the category of music software that's so bad, I'd recommend you not even bother. The music player forces you to sit through a 30-second launch of the non-existent Sprint Music Store first, only to tell you that it's not available before taking you to your music library. Preposterous that it can't just go straight to the music app.
Next, the menus are boring and bring nothing new to the mobile music experience. There are also no advanced features or settings. The Restore offers only the simplest version of playback.
The biggest problem in my book (and this probably won't bother too many people) is that the music player won't play albums in the correct order. The software doesn't see Track 1 - Track 10, it sees Track A through Track Z. This means albums are played back in alphabetical order rather than numeric order — in other words, all jumbled up. That ticks me off.
The Restore gets points for including a 3.5mm headset jack, but honestly, use an iPod instead.
Camera
Camera
The Restore has a 2 megapixel camera that takes OK pictures. You can open it from the menus or the dedicated camera button. It opens fast enough.
The options include the usual crop of settings controls, such as the resolution, brightness, white balance, and so on. Once you've configured how you want the camera to work, pressing the the camera button captures images in just over a second. The Restore takes perhaps another second to save the image and you're ready to take another picture. Because the Restore doesn't have auto-focus, the picture-taking process is fairly speedy.
Once you've captured an image, you have a short list of options, which include storing it, sharing it, etc. It's not the most robust camera software I've ever seen, but it provides the must-have features for a device such as the Restore.
After a few dozen shots, the camera application crashed and wouldn't work properly again. It couldn't save images and displayed an error message. I tried several different cards, rebooted the phone, and even tried saving images to the phone's memory. No go. I am still waiting to hear back from Samsung about this issue. I am sure it is an isolated problem and nothing you should worry about.
Gallery
The gallery application opens up to show a grid of thumbnails. Sprint has improved the One Click photo gallery a little bit. Before, opening individual images required at least two steps. Now it only takes one. Once you've opened an image, pressing the trackpad left or right will cycle through your images, but it's heinously slow and prone to crashing.
The right soft key offers a wide range of options for moving, editing or uploading the picture. These same options are available with the image open. If you subscribe to a picture sharing service such as Flickr, it is easy to set up the phone to upload pictures there.
The video recorder works exactly as the camera does. Before recording each video, you have to choose if you want to record a 30-second snippet for MMS messages, or a longer video. It warns you that videos larger than 512Kb can't be uploaded from the phone over the air to any Web services. Having to choose which size video every single time gets frustrating quickly.
Photos/Video
Photos
Two megapixels doesn't offer the largest canvas on which to capture digital images, but the Restore does fairly well for what it is. Despite the lack of autofocus, most images were clear and sharp. Detail was pretty good with outdoor shots, though in bright sunlight it was easy for colors to become overblown. The Restore will definitely be a good MMS and maybe even Facebook machine, but anything more than that is probably asking too much of a 2 megapixel shooter.
Video
Video quality was much the same. Color representation was good, and details was evident. There was plenty of digital artifacting, and there was some weird waviness when panning the Restore around. The limitations of the Restore relegate it to MMS-worthy video. I wouldn't even bother uploading anything to YouTube from the Restore.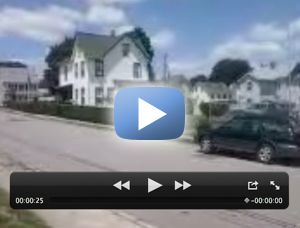 3GPP2 / MPEG-4 format (viewable with QuickTime)
File size: 416 KB
Browse/Customize
Browser
The Restore's browser defaults to WAP sites, but can display full HTML Web sites if you wish. WAP sites load quickly, but HTML sites do not. In fact, HTML performs so poorly, you'd do best to avoid it entirely.
The main landing page is Sprint's Web portal, which features links to news, sports, finance, weather and content such as that. A Google search bar is built into the top of the portal, and you can easily conduct searches.
As mentioned earlier, one of the carousel items in the One Click UI is for Google services. Sprint has also loaded a dedicated Google tool into the browser. You can find it in the options menu, which brings up a navigation tool. The nav tool shows you your previously visited pages, as well as jump quickly to the Sprint home page, your bookmarks and the settings menu. The Google search tool is one of the options in the nav tool.
Having a full QWERTY keyboard really helps with the mobile Web. It makes text entry so much easier and speeds up a lot of the actions you'll find yourself performing with the Web. I liked the browser overall for what it is: a simple WAP browser with extremely limited HTML capability. It gets the job done and does so with minimal fuss, but doesn't offer any advanced features.
Customize
The Restore allows you to customize it as much as any other feature phone. Ringers, wallpapers, screen savers, etc., can all be set by the user. Perhaps the most useful customization feature is the One Click user interface itself. Having total control over the carousel and what icons are in it and where they are placed means you can really set the phone to act the way you want it.
Extras
Bluetooth
The Restore supports mono and stereo Bluetooth headsets. Pairing with either kind was a snap. Sound quality through both was decent, though I thought the stereo Bluetooth sounded worse than I've heard on phones in recent memory. The Restore can also be paired with PCs and send files (such as pictures) easily.
Clock
The Restore has several different clock configurations. You can set it to be a large analog clock, small digital, large digital, or a combined analog/digital clock. Pressing the camera key or any of the keys in the side of the phone will quickly show you the clock. This means it's always easy to read the time.
Going Green
The Restore has a set of links to guides and tutorials on how to live greener. The guides, which are all based online and viewed through the browser, offer a number of ways for end users to minimalize their impact on the environment. For example, the Green Guides explains how to make changes to the way you drive, work, eat, take care of your pet, and even how you charge your electronics. Most of the advice the Green Guides offer falls into the common sense category. It would be better if the Restore offering daily tips via text message, or let you track your carbon usage. It doesn't.
Java
The Restore can access and download third-party content via the "MyStuff" folder in the main menu. This includes games, ringers, screen savers and other applications. The top of the Application download center has its own carousel that lets you scroll through featured applications. You can browse through all the folders, or use the search tool to drill down faster.
The "MyStuff" folder is a bit of a misnomer, however. If you think that's where you're going to find your pictures, videos or music, you're sorely mistaken. It is for applications, ringtones and other content you download from the Internet.
Sprint Navigation
Sprint Navigation is preloaded onto the Restore. It lets you get turn-by-turn directions from point A to point B. It worked well, and was able to pinpoint my location in about 1 minute, which was an improvement when compared to the original. The software came up with viable directions, and was able to re-route me when I purposely veered off course.
Wrap-up
The Restore is an inexpensive messaging device for Sprint that offers the tree hugger (said with the utmost respect) a less guilt-inducing alternative. It uses recycle materials, and can be recycled when it reaches the end of its useful life. It comes in recycled, bio-degradable packaging. It uses a power-efficient charger. And the battery life is good, so you'll be plugging it in less. I hope these are important to you, though, because there are indeed trade-offs.
The Restore is a sideways slider and is somewhat bulky. The hardware is mostly good. The full QWERTY keyboard, for example, works really well, but the trackpad is a little overly sensitive.
One Click is a decent feature phone operating system, though we'd like to see it evolve a bit. It has seen only the most incremental of updates in the last two years.
The Restore offers only the most rudimentary social networking features, and lacks IM. Threaded SMS is present, as is support for a number of different email providers.
The camera and video software are simplistic, and the 2 megapixel shooter delivers only average results. The music player is simply not up to par and fails to equal many other entry level feature phones out there.
Signal performance was good, but call quality was spotty. The browser is mostly limited to WAP sites, and HTML may as well stand for "Hey, Too Much Lagging!"
For the environmentally conscious Sprint customer, it's worth looking at, but be sure to weigh the options first.
No messages