Review: HTC Aria
Form Basics Extras Video Tour Wrap-Up Comments 7
Is It Your Type? Body The Three S's Touch
Jun 18, 2010, 12:03 PM by Philip Berne
The HTC Aria is a slick little Android phone, easily the most pocketable of the bunch. Did it sacrifice too many features to keep its small stature? Find out in our in-depth review.
Advertisements article continues below...
Is It Your Type?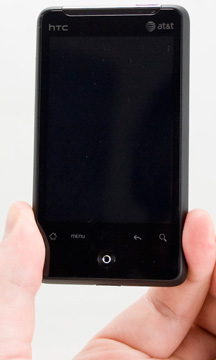 The HTC Aria brings a small, elegant form to AT&T's nascent Android lineup. It's not a flagship like Verizon's Droid Incredible or Sprint's Evo 4G, both also HTC devices, but it's still a stylish phone with a great interface design. The right buyer won't mind its shortcomings, though power users might find it wanting.
ATT & Google Maps - need clarification
Within an ATT plan, does google maps with navigation truly work on this phone, or did ATT disable the google navigation feature due to competition with its' own paid version of ATT Navigation?
Thanks!
I really meant to ask if the TURN-BY-TURN naviagation feature got disabled?
not the most powerful
In the wrap up you say "it may not be the most powerful phone" in android's line-up, does this mean its not using the snapdragon processor, and if not what is it running? BTW this is probably the best written review I have read on this site for a wile nice job 🙂
No the processor isn't a Snapdragon its a Qualcomm MSM 7227 600MHz processor but its really responsive.
Not a bad little phone
I just fired this phone up today as our store phone and I have to say I am extremley impressed with it. It is a very small, sleek and slim phone. It fits very nicely in the pocket and a couple of times I forgot it was in there which is a great thing I thought. The screen is very responsive, no missed letters or double letters with texting which I have always had an issue with. The signal strength has stayed good all day around 4 bars which is rare for ATT around my area. I hope that the phone isn't overexagerating its capabilities on the signal strength. The interface is smooth and extremley easy to navigate and understand. The speaker is a bit of a problem it does easily become distoreted on phone calls or music. The problem on the music c...
(continues)
I have Played with this
I have played with this phone and liked it alot i think people read too much into specs and dont even give a phone a chance but this little phone packs a heavy punch and i recommend it to people who isnt into big screens..... 🙂