LG VX8360 For Sale On Verizon Wireless Web Site
Article Comments 8
Jan 13, 2009, 1:47 PM by Eric M. Zeman
updated Jan 13, 2009, 2:19 PM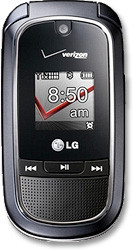 The LG VX8360 recently went on sale via Verizon Wireless's Web site. This clamshell has stereo Bluetooth, a 1.3 megapixel camera with video capture, and supports 8GB microSD cards. The VX8360 has a number of music-focused features, including external controls for the music player. It has EV-DO for 3G data and supports a host of Verizon's 3G-based services, such as Rhapsody. Lastly, it can access Verizon's Navigator GPS service. It costs $50 after rebate with new two-year agreement.
Is it just me?
Or is the 83xx series of LG phones getting uglier and uglier? It's like watching the progressive effects of inbreeding.
I dunno...I kinda like it. And hey, as long as it doesn't have the hinge-cracking issues that the VX-8350 does, then I'm sure that everyone will be pleased with it. The battery life for this device is supposed to be amazing.
Feedback?
How good is this phone? I have not
been able to find anything on this phone.
lg and verizon
sittin in a tree. k-i-s....aw ta he@# with it 😳