FCC Shows Off AWS-Toting Motorola VE465
Article Comments 3
Jan 13, 2009, 11:54 AM by Eric M. Zeman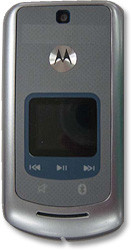 Documents seen on the FCC Web site provide details about a new Motorola clamshell that comes in dual-band CDMA and tri-band CDMA versions. The tri-band variant includes 1700MHz AWS spectrum, which earmarks it for Cricket or MetroPCS. Not many details are provided in the FCC documents, but the photo shows that it has dual displays, external music controls, external speakerphone and Bluetooth indicators and a camera of unknown quality. Motorola has not officially announced this phone, nor has Cricket or MetroPCS said they will sell it.
Isn't this...
beating a dead horse?
Yet another RAZR type
THis phone has a code name Frost and is coming out soon but will not make it to any big carriers like VZN or Sprint most likely, the design is un-inspired, just like a lot of MOT stuff lately.
"Yet another RAZR type"... damn right.