Review: Nokia E73 Mode
Form Basics Extras Wrap-Up Comments 4
Is It Your Type? Body The Three S's
Jun 14, 2010, 8:00 AM by Eric M. Zeman
Nokia churns out another E series QWERTY phone. This follow up to the E71 and E72 makes some notable improvements in the hardware, but the S60 software inside doesn't quite hold up its end of the bargain.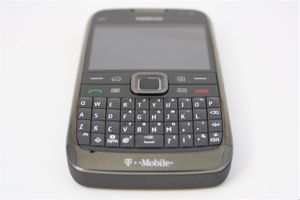 For die-hard S60 fans, there are few choices from U.S. carriers. The Nokia E73 Mode offers S60 in an appealing refresh of the E71/72 hardware. It's an elegant messaging device with hardware that works as well as it looks and feels. It's a pity, however, that S60's age is showing. While the software is powerful and lets users do pretty much anything, its bogged down user interface is beyond old and frustrating to use. Still, the E73 has plenty of merits worth discussing.
Happy I Got This
I love this phone 😁
the only thing I don't like is the twitter apps, they're not bad but I'm used to the amazing blackberry/android apps
Very nice review...
I'm convinced that if you truly want to enjoy Tmobile's 3G network, Nokia's phones are the way to go.
Right now I'd have to agree with this statement. I've been loyal to T-Mo for five years. However, I've also only used Nokia phones over the period of time. I picked up an E73 today, and this is the first time I've ever been able to use AWS bands. I'm ...
(continues)