Nokia Nseries Launch
Article Comments 18
Apr 27, 2005, 1:00 PM by Rich Brome @rbrome
Live report from Nokia's unveiling of the new Nseries line of high-tech phones in Amsterdam. First impressions of the new N91, N90, and N70 phones.
AD article continues below...
Intro
Nokia this week unveiled a whole new series of high-end phones with bleeding-edge features. More than just three new phones, "Nseries" will be an ongoing series of phones featuring the latest technology. Unlike other recent attempts at high-end sub-brands, Nseries isn't about luxury or fashion - these phones are about practical quality and features. In other words, they're aimed squarely at the gadget-freak crowd.
The new features debuting in the first Nseries phones include 2 megapixel cameras, CIF video capture, ultra-high-resolution displays, and hard drives, among others. Going forward, Nseries is the line where Nokia will introduce other new technologies, before migrating those features down into more mass-markets models.
In addition to high-end features, the Nseries will also include high-end quality in certain models, including Carl Zeiss lenses and stainless steel casings.
Nokia introduced the Nseries at "Destination Multimedia", a lavish event in Amsterdam. Held in a converted factory building, the event included a live performance by Alicia Keys. Nokia brought about 200 journalists from around the world to this exclucsive event. Clearly they take the launch of the Nseries seriously.
N91 1
The N91 is Nokia's first serious attempt to go after the iPod market. This music-centric phone can store thousands of songs, has dedicated music keys on the front, and a long list of advanced music- and audio- oriented features.
Like an iPod mini, the N91 has a tiny 4GB hard drive and a 3.5mm stereo jack for connecting real stereo headphones (unlike the 2.5mm type on most phones.) Also like an iPod, the N91 can be connected to a PC via USB 2.0 for fast and easy transfer of sound files, and you can also use it to store, transfer, and backup files from a PC. And finally, like an iPod photo, it can show album cover art for the song that's playing.
But that's about where the similarities end. The N91 includes many features that an iPod lacks, such as an FM radio, Bluetooth, (stereo, no less,) and wi-fi (802.11b/g) for transferring songs quickly in any situation. The N91 even has audio recording, via a line-in jack or from the FM radio - both in stereo.
In many ways, the N91 might remind people of the Motorola E725 announced last month in Miami. Both phones have special music controls on the front, lots of storage, and a 3.5mm jack. The N91 doesn't have the cool FM-broadcast feature of the E725, but in every other way the N91 a much higher-end and more feature-packed phone.
The N91 has all the standard playlist features you'd expect. You can create multiple playlists and organize them any way you like. The music features can always be controlled via the special keys on the front, and the funny-looking angled key always takes you to the main music menu.
The N91 is Nokia's first phone with a hard drive. This is a major milestone for the company, and the industry in general. While Samsung has already announced a GSM hard-drive phone, it stores a bit less at 3GB. Unlike some other hard-drive phones coming out over the next year that can basically only store music, the N91 can store any type of file (photo, video, spreadsheet, presentation... etc.) on the drive, and the files can be accessed from either a PC (via USB) or the phone itself.
Interestingly, because it has the hard drive, Nokia didn't feel it needed a memory card slot; the N91 is Nokia's first Series 60 smartphone since the original 7650 without one.
Of course the biggest difference between the N91 and iPod is that the N91 is also a smartphone. As a high-end phone, it sports a 2-megapixel camera, Bluetooth, and 3G (WCDMA).
The N91 also marks a move toward new connectors for Nokia. Like all new Nseries phones, it has a new, smaller power jack. This is a strategic move to allow Nokia to make all their phones slightly smaller going forward. In a similar vein, the N91 is also the first Nokia to sport a standard mini-USB connector instead of Nokia's (in)famous Pop-Port connector. According to Nokia Director of Product Marketing Joe Coles, mini-USB will gradually replace Pop-Port in all new Nokia phones starting in 2006.
The N91 will be available in a 3G and tri-band GSM version for Europe and Asia by the end of this year. Nokia does plan to bring it to the U.S. several months later, although specifics haven't been announced.
N91 2
Comparing the N91 to other recently-announced "music phones", one interesting difference is that the N91 does not include built-in stereo speakers. Personally, I find this refreshing. I've always thought the idea of tiny stereo speakers mounted an inch apart was just silly and impractical. They just can't produce a good stereo effect mounted so closely, and speakers that small never produce sound that is both loud and high-quality. They're basically just a gimmick that wastefully adds to the size and weight of a phone.
Plus, if I want to listen to music on my phone, it's probably in a situation where I'd rather use headphones to be polite, or connect the phone to my car or home speakers. Not to mention that blasting music from built-in phone speakers would drain battery life very quickly. It's good to Nokia paying attention to how people will actually want to use these features, instead of just following the pack on the incredibly stupid idea of built-in stereo speakers.
An immediate concern that comes to mind when talking about a hard drive in a mobile phone is battery life. Nokia claims that the N91 will be able to play music continuously on one battery charge for up to 12.5 hours. But like any other function on any phone, of course that number is an ideal maximum that goes down as you place calls or do other things with the phone.
Nokia reps were also very quick to point out that the N91 has an easily-changeable battery. Of course this is nothing new for a phone, but a major advantage over an iPod. It's simple thing, but certainly if you have a need for music all weekend away from your charger, then you do have the option of bringing along extra batteries.
I didn't really have a chance to judge build quality of the N91. Since it's still many months from mass production, all that's available to try at this point are prototypes. In the photos on the previous page, you can see that the top-back part of the phone is a strange color. That's a prototype issue that won't be present in the final version.
The numeric keypad is about as awkward to use as it looks. There are no major issues of certain keys being hard to reach, and they certainly protrude enough to be easy to feel, but it just feels awkward. Another annoyance is the non-key in the middle of the music-control keys. You'd think the space in the center would be some kind center-select key, but in fact it is just fixed plastic, which makes the placement of the strange little angled music key next to it all the more puzzling.
Also on the subject of keys, the N91 does have up/down side keys for adjusting volume. This is very welcome, since that is one glaring omission from most Series 60 phones.
I was disappointed by the display quality. It seemed unusually dim for a modern Nokia. I thought it was a prototype issue, but was told that was in fact the final display.
Most of the N91's outer body is steel. This is partly for looks, but also for protection, as one of several measures to protect the hard drive. Other measures include locating the hard drive in the center of the device, and securing it inside on shock-absorbing mounts. Finally, an accelerometer in the N91 can detect if the device starts to freefall, and will instantly "park" the hard drive to protect it from being damaged.
When I first heard the specs of the N91, the one that surprised me the most was wi-fi. At first, I just couldn't picture the real-world scenario where that would be useful - or more precisely - worth the extra cost and size, not to mention the hassle of configuring it for the local coffee-shop network just to download a single song.
Surprisingly, not a single Nokia exec I spoke with was able to provide a specific, compelling example of how wi-fi might be useful in the N91.
But I think I may have figured it out: college students. This is the only major group of people that has free, unrestricted access to a single wi-fi network throughout most of their day. And they also just happen to be huge consumers of music. When you think about it, wi-fi really does make the N91 a dramatically more compelling product for a college student.
One last comment on the N91: I was pleased to discover full playlist-editing capability. Unlike an iPod, you can actually create, edit, and even re-order playlists right in the phone.
N90 1
While the whole Nseries is basically a line of "flagship" phones, the N90 arguably leads the fleet. While the N91 has a music focus, the N90's strengths are all visual. From the stunning display to the Carl Zeiss optics to the look of the phone itself, the N90 is a feast for the eyes in every way.
The first thing anyone will notice about the N90 is the funky hinge design that twists and turns more ways than a Rubik's Cube. In addition to the twist-and-flip design that several other phones have had, the N90 also has a twisting camera that protrudes quite a bit from the hinge. While it looks like a clumsy, flimsy design in photos, with too many moving parts, it is actually one of the most solid-feeling hinges I have tried in some time. The angles where the hinge "clicks" are designed in such a way that it's actually quite a pleasure to manipulate, and the camera part feels equally well-constructed.
The whole feel and ergonomics of the phone are excellent. Everything is exactly where it feels like it should be, and feels and works very well. The phone is fairly large, but there will always be some size compromise when you want a phone will all the trimmings.
The fancy hinge is to allow maximum flexibility when taking photos or videos, which is the main focus of the N90. Unlike Nokia's first twist-and-flip phone, the 6260, the N90 does not allow the main display to be twisted 180 degrees and folded down facing out. But the N90 does feature a large secondary display, which can be used as a viewfinder for the camera. The advantage of this setup is that the main display is always protected from scratches, which is important given the quality of that display.
So just how many ways does this phone bend? Well, to start with, you can simply turn the camera part to activate camera mode with the phone still closed. You can turn the camera away to use the phone just like a digital camera, or you can turn it inward to take a photo of yourself, if you like. Then of course the phone opens like a standard clamshell for normal use.
But the real acrobatics begin if you want to use the main display as a viewfinder. Then you can fold the top part down half-way (where it "clicks") and twist it to the right. Then you can hold the phone sideways, camcorder-style. The advantage is that the display is now in landscape orientation, so you can use nearly the whole (beautiful) display area as a viewfinder. Plus it's very easy to hold the phone one-handed this way, and hold it steady.
Another advantage is that the display and camera both have fully independent adjustable vertical angle in this configuration, so you can hold the phone at any height and angle that's most comfortable, and still point the camera at your subject and the display at your face. I can't think of a single camera phone or standalone digital camera that is this comfortable to hold and offers so many angle options.
If you have access to a 3G network that supports video calling, you can also point the camera at yourself for a video call.
The camera controls are also quite extensive and well-thought-out. Like a standalone digital camera, the N90 has a capture key (shutter-release) that you can press down half-way to focus, and then all the way down to actually take the shot. This can help eliminate delay if you're trying to take a shot that needs to be timed carefully. The reason this is necessary is that the N90 has a true auto-focus lens, which boosts quality dramatically over the fixed-focus lenses still found in most current camera phones. Auto-focus lenses typically require an extra second or two to focus.
The camera also has additional dedicated controls, including a true five-way joystick right below the capture key, and two extra soft keys next to the display. The joystick controls the digital zoom, as well as activating and navigating the primary settings menu. The two soft keys provide additional options, such as switching between still and video mode, or moving to the gallery application. Together with the joystick, they allow you to do nearly anything visual without using the main keypad (which would be quite awkward from that angle.)
N90 2
The N90 takes excellent-quality photos.
Of course, with Carl Zeiss lenses, a 2 megapixel sensor, and true auto-focus, that's to be expected. The LED flash is also surprisingly powerful and effective for close-range shots. The photos above were not taken in ideal conditions, so they're not valid for a scientific review of quality, but they should give you some idea what to expect in non-ideal conditions (i.e. the real world.)
What might be more exciting is the video functionality. It can record at an impressive 352 x 288 pixels, (CIF resolution,) which is something only a few phones outside of Japan can claim. Nokia claims a 15 frames per second (fps) capture rate. In some non-scientific testing, the video looked good when holding the camera still, but when panning around so the whole scene changed, the video became quite jerky. But it was not final hardware, so that might be fixed before commercial launch.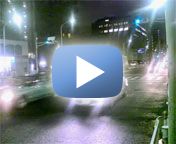 QuickTime format
File size: 1.2 MB
Above is part of a video clip Nokia reps had pre-loaded on the demo N90s to show off the video functions. It was recorded with an N90 at an intersection in Tokyo.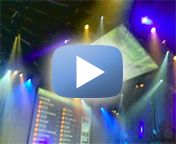 QuickTime format
File size: 999 KB
Above is a video clip I took with an N90 at the Nokia party in Amsterdam. As you can see, it had a little trouble with a lot of motion, but then again it was not a final N90.
The other really exciting visual feature of the N90 is the truly jaw-dropping display. The previous world record for a mobile phone was just slightly larger than QVGA (240 x 320 pixels). The N90 shatters that barrier with a beautiful 352 x 416 pixel display. It looks simply amazing. The pixels are so fine that they absolutely can't be seen with the naked eye; it looks like paper - but very bright and colorful paper.
The European/Asian version of the N90 should launch within a couple of months. Specifics of an American launch have not been announced.
N70
Before the Nseries launch, the flagship phone in Nokia's lineup ("communicator" devices aside) was the 6680, a high-end 3G smartphone. But now we have the N70, which is based on the 6680, but adds several improvements. Yet the N70 forms the "low end" of the Nseries line, which goes to show just how high Nokia is aiming with the Nseries.
The N70 is pretty straightforward if you are familiar with the 6680 and its non-3G offspring, the 6681 and 6682. The key hardware upgrade is a 2 megapixel camera, compared to 1 megapixel on the 6680 series. The N70 and N91 don't get an autofocus lens or Carl Zeiss optics, though - those are currently reserved for the N90.
While the internals are not that different, the styling has received a much-needed overhaul. The N70 steps up the style considerably with an elegant layered look. The way the back plate slides to reveal or protect the camera, matching the front plate at one end or the other, looks particularly slick. The build quality feels excellent. It's not the most eye-catching design, but it's a real pleasure to hold and use.
Other upgrades over the 6680 are on the software side, and are shared with the rest of the Nseries.
The first is a new photo browser. It's not super-intuitive, but once you learn the basics, it's a delight to use. It lets you quickly scroll through photos one at a time, or one page at a time.
The Nseries also includes a new suite of tools for printing photos called XpressPrint. This is an integrated solution that includes printing directly to printers via Bluetooth, memory cards, or USB (with PictBridge-compatible printers). It also includes online printing capabilities. Previous Nokias had some of these features, but mostly tucked away in separate applications. With the Nseries, you can simply choose a photo right in the photo browser, and the print options are right there.
Like the rest of the Nseries, and most new Nokias going forward, the N70 has a new, smaller power connector compared to previous Nokias. While yet another new connector is always a drag, the good news is that Nokia plans to include an adapter with every new phone so that you can use any old-style chargers you might have with your new phone.
Wrap-Up
While I was generally impressed with the Nseries, it is hardly without fault. These phones are not small, nor are they light. In fact, the N90 and N91 probably push the upper limits of what most people are willing to carry. And not everyone will like the style of them - especially the N91, I suspect. And then there's price... Nokia expects the unsubsidized price of the N90 to be around $900 USD. That's one expensive phone.
I also think the new model numbering scheme is just trouble waiting to happen. Their plan is to introduce additional models in the N70, N80, and N90 ranges. Of course, that's only 30 possibilities. What happens when they run out? I asked, and was told that their plan is to simply start re-using numbers. So in 2007, there might be a totally new "N90". The really troubling part is that the new N90 won't necessarily be a successor the current N90. It could be a totally different kind of phone with a different focus. I foresee mass confusion if they proceed with this plan. Hopefully they will change course before this actually comes to pass.
But all in all, I was impressed with the Nseries. They take a pretty big leap forward in technology, especially for Nokia, which has been known to take a wait-and-see approach with new technology in the past. The Nseries proves that Nokia is serious about 3G, serious about music, and serious about photos.
It's also nice to see the thought that Nokia has put into these new features. While some of the competition has rushed to put hard drives, multi-megapixel cameras, and crazy twisting displays in their phones seemingly just for the sake of it, Nokia has taken a more practical approach. The N90 could have featured a 3-megapixel camera, but instead Nokia chose to focus on quality by using Carl Zeiss optics. The N91 could have had built-in stereo speakers, but instead Nokia took time to think about how people actually want to use a music phone. And the N90 has one of the first twisting displays I've seen with a truly complete set of controls for the camera mode.
It will be fascinating to see what's next for the Nseries.
US VERSIONS?
rich is there going to be us versions..because we dont have 3g? just like how there is the 6682 and 6681. thanks 😁
Nokia does plan to bring both the N90 and N91 to the U.S., although specifics haven't been announced. They might do 2G versions like the 6682, or they might do the whole 3G thing.
Keep us updated...
Anyone who finds a legit site offering the N90, be sure to post it! I'll be extremely interested in buying it from a site that doens't ask me to send a Western Union money order to Cambodia! 😁
Hey Rich, I need to let ya know...
That you're the man!

Rich Brome for president!

Thanks for all the info! Keep up the great work! 😁
Aww....gosh. 🤭 You're too kind.

Thanks, though! 🙂 It's my pleasure!
Sweet phones....
But is there an N90 1 and an N90 2, or were those just page 1 and page 2?
page 2 is examples of photo's taken on the N90 (my next phone, fingers crossed)
Page 1 and page 2.... sorry if that's confusing! 🤭
The N90 is sweet. Its big but it looks functional how the 6260 looked when first seen. But, that changed to learn its shortcomings. Know about this phone this time around I'm impressed and not the least bit dissatisfied by Nokia as I have been as of l...
(continues)
About friggin time.
We finally get phones that have some of the features our friends have on the other side of the world. Both phones are uber impressive. I can't wait to see them in action. If we actuallty get them I would be so happy. 😁
Sorry so late!
🤭

Sorry the "Discuss" tab wasn't up earlier. It was supposed to be, but there was a glitch.
If anyone else is like me, they have had a hard enough time collecting their jaws off the floor to do much discussing anyway.

As always a huge THANK YOU for the timelyness of the information. Please keep up the great work!