Samsung Announces Pico Projector
Article Comments 9
Jan 7, 2009, 12:47 PM by Eric M. Zeman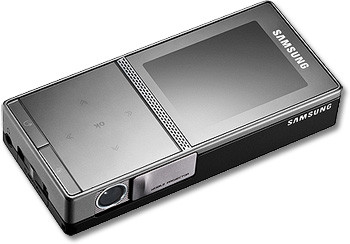 Today Samsung introduced a pico projector accessory for mobile phones. The MBP200 is powered by a miniaturized version of the same imaging technology found in DLP HDTVs It connects to mobile phones and laptops via Texas Instruments' DLP pico chip. It can project images in sizes ranges from an 8 ½ x 11 standard sheet of paper to a 50-inch screen. The MBP200 has a simple shape and design with touchpad controls on the right side of the device for navigation and a 2.2-inch QVGA LCD screen. It has a 3.5mm stereo headset jack and internal speaker, supports microSD cards up 16GB, and supports a wide range of video codecs. It can also be used to view PDFs and Microsoft Office documents. It will be available later this year. No pricing was announced.
source: Samsung
So......
Where do I plug in my XBox 360?? 😁
Now that would be sweet. Play your xbox wherever you want!
your TV would be a good spot sorry couldn't resist 🤣 🤣
Well this one is designed for cell phones but they do make ones that would work with an xbox. They will set you back a few hundred though.
Help me Obi Won, you are my only hope.
Mwahahahaha.

R2D2 has one of these things.

I love it!!!! 🤣
This is Sick!
I love it! 😎