Review: HTC Evo 4G
Form Basics Extras Video Tour Wrap-Up Comments 100+
Multimedia Camera Image Quality Browse / Customize Extras
Bluetooth
The HTC Evo 4G has some of the best Bluetooth support among Android phones I've seen. My Bluetooth headset paired with no trouble, as did my stereo Bluetooth speakers. I was able to send files over Bluetooth to my Windows 7 desktop. The phone also supports phonebook (PBA) profiles to sync contacts with a compatible device. Bluetooth was easy to use and reliable in every case.
Clock
Did I mention the twelve different home screen clocks available with HTC's Sense UI? There is a wide variety of very cool designs, and all of them are large and easy to read (except when they are difficult for obvious artistic reasons). You also get a clock on the lock screen to check the time quickly. Plus, there's a clock in the notification bar at the top of the Android screen. Tap the notification bar lightly and the phone will show you the date as well.
The Evo 4G has a desk clock mode that give you the time, temperature and weather forecast. There are world clocks, alarm clocks, a stopwatch and a countdown timer. HTC takes time (and weather) very seriously; the Evo 4G makes it easy to be punctual.
Advertisements article continues below...
GPS
Sprint has bundled its own Sprint Navigator with the HTC Evo 4G, and the phone also comes with Google Maps for local search and turn-by-turn directions. All of the location based apps I tried worked very well. The phone had no trouble finding a GPS signal quickly, even when I was indoors with a scant view of the sky above. Normally I'd recommend the free Google Maps navigation over the carrier app, but Sprint doesn't charge an extra fee for using Sprint Navigation, it's free with the phone's data plan. The TeleNav-created app worked very well and looked great, so it's really a matter of preference. I preferred the search features and linked phone directory of the Google Maps app, but Sprint Navigator also has a fine point-of-interest database and great looking navigation interface.
There are loads of location-based apps in the Google App Market, and HTC has bundled its own fun app for travelers. Footprints lets you record your location and a picture. It's a nice, simple way to track where you've been, especially useful when you'll be visiting loads of landmarks on your journey. You can take a picture, jot down some notes and assign a category to your 'footprint,' like Dining, Leisure and Shopping.
Wi-Fi Hotspot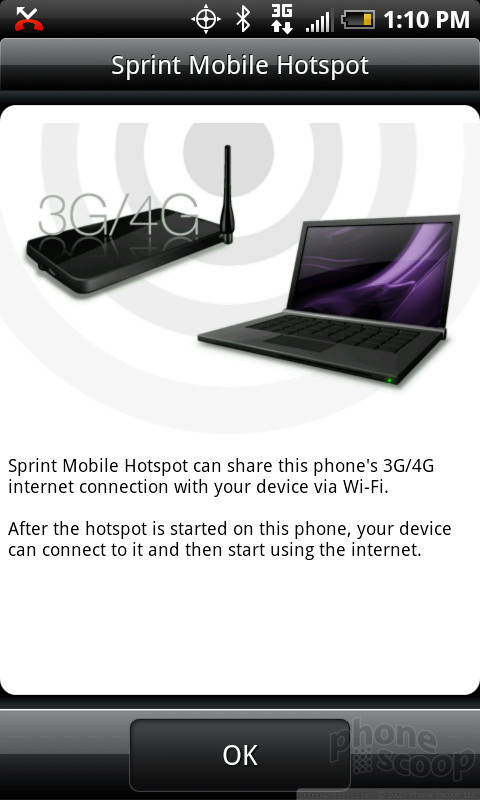 The HTC Evo 4G can act as a tethered modem, or it can generate a Wi-Fi hotspot using its own network connection. When you have 4G coverage, this is an awesome feature. I tried the hotspot with my laptop, my iPad and even other smartphones, and speeds were fantastic when my WiMAX connection was solid. I was able to stream high definition video, hold IM chats and browse the Web quickly. Even when the phone wasn't connected to Sprint's 4G, I was still able to connect my devices to share the 3G signal, and that was good enough in a pinch.
That tethered modem support doesn't come free. To tether up to eight devices to the HTC Evo 4G, you'll have to pay an extra $30 per month. That's on top of the $70 monthly voice and data plan, and the extra $10 Sprint is charging all Evo 4G users, whether or not you are using the WiMAX network. Compared to Verizon's deal on the Palm Pre Plus, which offers a similar HotSpot feature for up to five users for free, this seems expensive. But the Pre Plus is an anomaly, and $30 is reasonable for this type of service. It's even a bargain if you have good WiMAX coverage, since a 4G-capable Sprint Overdrive, a portable HotSpot device that performs the same service, will run you $60 per month.