Verizon Wireless Launches the Nokia 2605 Mirage
Article Comments 5
Dec 5, 2008, 10:16 AM by Eric M. Zeman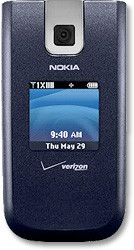 Today Verizon Wireless announced the addition of the Nokia 2605 Mirage to its lineup. The Mirage is an entry-level flip phone that has dual displays, a VGA camera, Bluetooth 2.0, speakerphone and 1X data. It is also compatible with Verizon's VZ Navigator service. The Mirage will cost $50 after rebate with new agreement. It is available starting today.
Another day, another boring generic phone for Verizon
This sucks, I'm tired of receiving the same thing over and over:

Flip Phone
Between 1.3mp to 2mp
Vcast
Bluetooth
Loudspeaker

AT&T had at least 3 new messaging phones, and the LG Shine these past couple of months, and Verizon gets boring generic phones.
Ok...really? Are you serious or are you just a fanboy of another carrier. How about the HTC Touch Pro or the Omnia or Saga by Samsung...or that other phone you may have heard a little about, the Blackberry Storm. Trust me there are still a large nu...
(continues)
Also Verizon Wireless CDM8950
It has EVDO, so all V Cast stuff (Not Mobile TV tho)

but it does have Bluetooth, which is unlocked so you can transfer files... ringtones, pic, ect.

like i said, its part of Verizon new Open Network.

o yea, and now on all new phones you can change the menu so you dont have to have the same old Verizon one.