Land Rover Contracts with Sonim to Make Branded Phones
Article Comments 34
Dec 3, 2008, 10:25 AM by Eric M. Zeman
updated Dec 3, 2008, 10:51 AM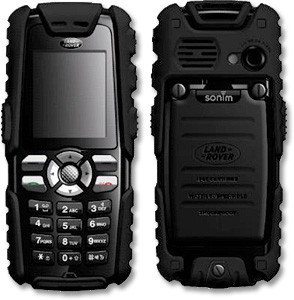 Land Rover and Sonim Technologies have entered into an agreement to develop and launch co-branded mobile phones. A total of three phones are already in the works, with two — the Land Rover S1 (pictured) and Land Rover S2 G4 — slated for launches in the first half of 2009, and the third following later in the year. The phones will be rugged, submersible, and certified to withstand salt, fog, humidity, transport and thermal shock and a 1.6-meter drop to concrete from any angle. Land Rover and Sonim are working with designer Scott Wilson to create the products, which will use GSM-based radio technology.
Wow!
I hope we get them at AT&T, they would be fantastic for people who work in construction and other fields where cellular phones are at great risk for damage, etc.
hey hey hey dont forget about the samsung rugby 😲
Info about Land Rover LRS1 Sonim Phone
Hi, i'm bob plaschke, the CEO of Sonim and wanted to add my two cents to the discussion. while the phone looks similar to the sonim xp3.10 we launched in Europe, the Landrover phone is really different. Hardware wise, it has the best AGPS available in the market, a camera and an accelerometer. As importantly it will have a suite of location based applications unique to LandRover. We'll announce more soon, but just wanted to clear this up. email me at bobplaschke@sonimtech.com if i can answer any questions
Hello Mr. Plaschke,

I have a question for you. Will the Sonim have the GSM 850 band, since we use the 850/1900 GSM bands in North America? Thanks!
Technical Specs
Ruggedization

* IP-57 certification
* MIL-810F certification for salt, fog, humidity, transport shock and thermal shock

Durable casing

* Hardened rubber molded to casing by dual injection process

Shock and vibration

* Rated to 2m drop to concrete
* Vibration protection from 5Hz to 500Hz

Dirt and dust

* Non-porous casing blocks entry of micro-particles

Temperature range

* Operational range -20C to +60C

Antiglare and Shock Resistant Screen

* 128X160 screen size

Durable mechanics

* Keypad buttons tested to 500,000 pushes

Built-in Torch
Core Platform/Functions

* Philips Nexperia 6120 platform
* ARM-9 processor
* GSM / GPRS tri-band
900, 1800,...
(continues)
Any one know the price of this phone? My son will be deploying to a far off sandy place next year and this would be much better for him to take than his iPhone.
I don't know why, but...
It kind of looks like a phone the Predator would use. All spikey and stuff. I wouldn't be surprised to see this thing exploding through my vital organs someday. Well okay, a little surprised.
Just what the soccer moms need?
Just what the "yuppies" and soccer moms need on the way to the mall. A phone for the amazon rain forest? or war?

hahahahhahahahahahahahahaha 🤣 🤣 🤣 🤣 🤣 🤣 🤣 🤣 🤣 🤣 🤣 🤣 🤣 🤣 🤣
Obviously it's not marketed to "soccer moms" but I think it is a great idea to have a phone like this. I have worked for multiple GSM carriers and none ever had a real rugged phone like CDMA carriers like Sprint carry. I think this is great for worker...
(continues)
This would be the phone to be able to throw at a wall and still be able to call your support group! 😳