FCC Reveals T-Mobile Shadow II
Article Comments 8
Dec 2, 2008, 2:52 PM by Rich Brome @rbrome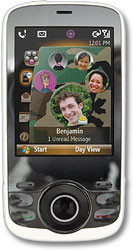 Documents that appear to show the successor to the T-Mobile Shadow have become public on the FCC web site. The HTC-made device is very similar to the original Shadow, with the main differences being Windows Mobile 6.1, a faster processor, and a more rounded design. The draft user manual also lists separate battery life times for GSM and UMA, indicating the phone may support T-Mobile's UMA-based Unlimited HotSpot Calling service. The documents show nearly identical features, including 2.6-inch QVGA display, spinning scroll wheel, slide-out 20-key text keyboard, 2 megapixel camera, Wi-Fi, microSD memory card slot, and quad-band GSM/EDGE. No information is available on a release date.
Umm....why no 3G?
It would have been really great if T-Mo had their first 3G Win-Mo device.
I hear ya. Seriously, it would rock. But I can envision 20 minutes between battery charges if they release a phone with all the goodies. Still, I can't imagine that they couldn't design the device to switch off the 3G when connected to Wi-Fi.
Yea I agree. You would think that if your going to make a phone with nearly identical features as it's predecessor, (from an average consumer viewpoint) you'd think they would at least throw in 3G as a mass-market selling point.
The pic looks almost Camo-ish
What with the person taking the picture being reflected, it looks (at a glance) like an urban camoflage scheme.

The idea of such a think horrifies me, but I almost thought it would have looked cool that way.
There is a camo theme displayed on the screen.