Nokia Announces Its 2009 Flagship Device, the N97
Article Comments 59
Dec 2, 2008, 3:15 AM by Eric M. Zeman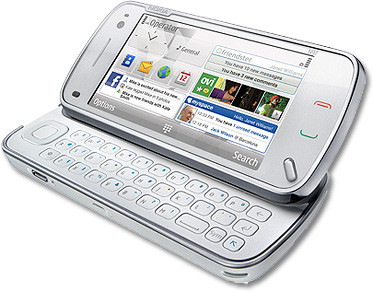 Today Nokia announced its flagship smartphone for 2009, the N97. The N97 has a large 3.5-inch screen (640 x 360 pixels, 16:9 wide-screen) for touch-based input, as well as a full physical QWERTY keyboard for messaging. The N97 is the first Nseries device to have a QWERTY keyboard, which slides and tilts when open. The N97 offers an extensive set of features, including S60 5th Edition, a 5 megapixel camera with autofocus, dual LED flash, Carl Zeiss optics and video capture at 30fps in the 16:9 format. It has 32GB of built-in storage (expandable to 48GB), as well as Wi-Fi, aGPS, FM radio, and FM transmitter. It carries quad-band GSM and HSDPA for 3G connectivity. It supports Flash Lite 3.0, as well as Flash Video in the Internet browser. It has Bluetooth 2.0+EDR with A2DP stereo, as well as a 3.5mm headset jack with TV out, and stereo speakers. The N97 was built for social networking, and has what Nokia calls "So-Lo" (social location) services. The N97 will be available in the first half of 2009 for approximately $695. A version with 3G for the US will be available shortly after the European version.
why is it....
when manufacturers say that a NA version will come out, it's only att compatible? is t-mo not in the US too?
because ATT's 3g frequencies are used across the americas, whereas 3g's are only, t-mobile's.

So, in essence, they'll only make a t-mo version if they ask.
because t-mobile phones suck......
Who's going to carry it?
It looks like it might be on AT&T's list for being a GSM phone. But probably released in EU or Asia first.

I'm thinking that they need to lower the $600 pricetag to $199 if they really want to sell the phone. It's Nokia's own OS and software, so they can claim their own starting price. Next would be the carrier's rebate for the contract rate.
Maarek said:
I'm thinking that they need to lower the $600 pricetag to $199 if they really want to sell the phone.
Dumbest thing I have heard all day. 🤣
*crosses fingers* Plz ...Att...Att...Att..... 👀
JUNK!
y would you want this at 640 x 360 pixels!
when you can get Sony X1 with 800x480 pixels!, that is like your home monitor! haha
Yes, it has better dpi, but that is irrelevant after a certain point. Can your eyes differentiate each tiny pixel?

However, the X1 is still better to the N97. It has 7.2 HSDPA (3.6 on N97[really nokia?]), better resolution, and US compatible Tri-ba...
(continues)
Passing judgement on a phone simply because of it's pixel density is not only petty but shortsighted. Remember that the screen size is about the same as the Xperia, so the N97 is going to be much easier to read on. True, it's less dense than a home ...
(continues)
*** N97 = Symbian S60
*** X1 = Windows Mobile (the mere fact that the X1 is a Windows Mobile device is all the reason I need to avoid it!)

*** N97 = 24 bit/16.7 MILLION COLORS!
*** X1 = 16 bit/65K colors (your precious 800 x 480 screen resolution...
(continues)
Not bad at all!
When do we in the U.S. get it?!
"Not bad at all" is such a modest statent. Nokia didn't say when, only "1st half of 2009" My guess is April/May, just a guess.

I'm a current N95-3 owner, I'm going to start saving for it soon!

This is one beast of a phone!!!!!
chocolateman85006 said:
When do we in the U.S. get it?!
I would suspect we will see it in third quarter '09. As someone else has already stated, it would be really great if they made a tri-band hsdpa with 850, 1900 ...
(continues)
N97 more capable than the iphone says Boy Genius Report!!!
Qwerty is only 3 rows?
That sucks.
That, plus the space bar isn't in the center is one of the first things I noticed about the design. Not necessarily a dealbreaker for me though.
real keyboards only have 3 rows of letters.....saves space
Looking Good Nokia
I have always thought that Nokia makes great devices and this one looks no different. (before you gripe, I know that not every phone is perfect) It would be a disappointment if the phone only came with 3.6 mbps data but I would deal with it. The screen has plenty of resolution IMO plus the 5mp camera and 32 GB of memory, just awesome. I am used to my Curve's keyboard so I'm not sure about the 3 row QWERTY. I look forward to the release of this device and I think it will do very well. GREAT JOB NOKIA!!!!!!
It's damn near perfect that's for sure. I do notice that the keys on the keyboard are spaced apart quite well. That's a good thing, I think, less errors.

I definetly agree w/u that it would be eXtremely dissapointing it the N97 isn't HSDPA 7.2/HSUP...
(continues)
I'd actually condiser switching...
...not only from Moto to Nokia, but from my beloved CDMA to GSM for this phone. Simply put, it looks awesome.
I was thinkin' the same thing! Depending on how long we'll have to wait to see this thing in the US - I can very easily see myself makin' the switch! 😎
T-Mobile compatible: yes or no?
probably not.....
wait till FCC documentation is released
Most likely going to be a no, Nokia has a problem ommiting the AWS spectrum from its phones...
remarkably light considering...
The iphone has the same screen size but weighs 4.3 oz. The Nokia has more casing and a slide out qwerty keyboard in which it still only weighs 5.3 oz. This is very light considering the size of the phone in gerth. Not bad! All the touch pros are roughly 5.8 oz. I am however disappointed in the keyboard of this Nokia.
I agree w/u about the keyboard, the space bar isn't in the center, what's up with that? Plus I prefer up/down/left/right arrows on the right side of the keyboard.

I hope to see multiple angle pictures of the N97 very soon. I am glad to see that the...
(continues)
Why I'm Not Surprised!!
When are they never gonna learn, really?
Why can't they do like some of the others or even like the iPhone? Release a true world phone with quadband GSM and triband HSDPA.
Nokia keeps on making two seperate models of the same phones; it just makes things more complicated and with more delays. And they wonder why they so behind in America.
or better yet, a quad-band HSDPA.

AWS is getting popular in other North/South American countries, as the 1900 and 850 frequencies are used up.