Review: Pantech Link
Article Comments 2
Apr 16, 2010, 5:03 PM by Philip Berne
PhoneScoop reviews the Pantech Link, a slim and light full QWERTY phone on AT&T's Quick Messaging lineup. Does it offer all the messaging you need at a low price?
Form
Is It Your Type?
Pantech Link review
Is It Your Type?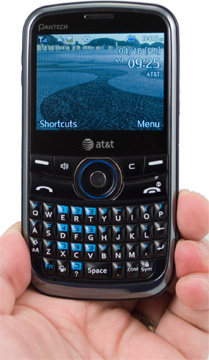 The Pantech Link is sort of Nokia Eseries Lite. If you're looking for a phone with a full QWERTY keyboard that specializes in design, but skips most advanced smartphone features, the Link is a slim and light phone worth a look.
Body
The Pantech Link is a very basic slab QWERTY phone. I could compare it to any number of BlackBerry or Samsung smartphones, but it most reminds me of the Nokia E72, with its super thin shell and metallic banding. It's a very light phone, and that may lend a cheap feel to the device, but I definitely appreciated the comfortable weight in my pocket. This is one phone that won't stick out in a pair of jeans. The phone has a rubberized, textured back that made it easy to hold, and even easier to rest on a slightly inclined surface. It's comfortable to hold, but with its flat shape I wouldn't call it ergonomic.
The exterior of the Pantech Link lacks any bells and whistles; buttons are a plain Jane assortment. You get a volume rocker on the left, a camera button on the right, both nicely raised and curved to find easily. The navigation buttons weren't great, especially the 4-way button in the middle. The bottom of the circular d-pad cuts off where it abuts the keyboard, and my fingers occasionally found the "T" or "Y" keys when I meant to press down.
The keyboard is surprisingly good for an inexpensive messaging phone. The keys are each individually raised domes, with enough space in between that typing was a breeze. The keyboard layout was pretty good, too. You get a dedicated ".com" button, which is nice, though I might have traded the dedicated "?" for an "@" key, just to complete the theme. For messaging and entering Web addresses, the keyboard did a fine job, and typos were rare.
Pantech uses a proprietary port for USB, charging and headphones. It's time to give up the proprietary designs and move to microUSB, like the rest of the world. For one thing, microUSB would mean I could lose the proprietary charger and not worry about special ordering a new one. I've tried to find a Pantech charger at an AT&T store; it's nearly impossible. For another, Pantech and AT&T are stingy with accessories, and the phone lacks a USB cable or handsfree option out of the box. I'd like to see a 3.5mm headphone jack, but barring that option, at least a microUSB port would give me more options than Pantech's proprietary dreck.
The Three S's
Screen
Considering the Pantech Link uses a 2.4-inch, QVGA display, the screen actually did a fine job showing off AT&T's refreshed icon grid menu system. There were still some jagged edges and stuttering animated icons, but overall the picture was bright and colorful. Text looked good in the Link's Web browser, but images left something to be desired. As with the main interface, pictures were bright and colorful, but also a bit jagged around the egde. The phone definitely suffers for its low resolution display. Outdoors, the Pantech Link was easy to read, with no real trouble from glare or direct sunlight.
Sound
Sound quality on the Pantech Link was better than average, but not exceptional. With the earpiece, I had no trouble hearing my callers' every word, but they did sound a bit muffled, as if there was some light cloth between the phone and my ear. On their end, callers reported a bit of static hiss, but nothing too troubling. I tried the Link with the automated phone system for my bank and it had no trouble understanding my account numbers and other spoken information.
The ringtones on the Link are plenty loud. I could hear them from across my house, within my pocket, wherever I happened to leave the phone. Too bad the speakerphone could not get in on this action. While the ringer could be abusively loud, I couldn't get the speaker up to a volume that would be useful over loud car noise, or from across a room.
Signal
The Pantech Link always held around 3 bars of service, about average for 3G AT&T phones in my area. Sometimes, data transmissions seemed to stall and lag a bit, but I never had trouble with calls dropping out while I was talking, or never reaching me in the first place.
Battery
The Pantech Link did a fine job slurping from the battery instead of gulping. In a basic talk test, I got a few minutes more than five hours of talking time out of the Link. In mixed use, the phone had no trouble holding a charge through more than a day's use. You could probably go a few days without charging this phone, if you stay away from GPS navigation and other battery hogging features.
Basics
Menus
AT&T has polished their basic feature phone menu a bit for the current generation of devices, but it still sticks to the basic icon grid, or icon list formula. There are still redundancies, and it still takes too many clicks to jump to some of the most popular features, but for the most part you can get where you're going in a hurry. E-mail, Instant Messaging and an all-encompassing Messaging option are top level menu options. You can get to the AT&T GPS Navigator app in only a couple clicks; ditto the music player, though both apps are hidden under redundant submenus called AT&T GPS and AT&T Music.
There's a sort of generic "My Stuff" selection that's really more of a file browser, and AT&T's new Online Locker, which lets you store and send pictures from AT&T's own cloud servers, is right up top. That Online Locker costs an extra monthly fee, as does AT&T's e-mail app, which is a shame because these services usually come free on a smarter phone. AT&T makes it difficult to discern from the phone's interface exactly how much these will cost, but I can tell you that the Online Locker will run you $10 monthly, and AT&T e-mail will cost another $5. That's on top of your data plan and monthly minutes. For an inexpensive Quick Messaging phone, AT&T sure knows how to milk the most out the experience.
The only customizable option for the Pantech Link's interface is the basic Shortcuts menu, accessible via the left button near the screen. You can arrange and assign up to a dozen shortcuts to that screen, then jump quickly into them using the numeric keys.
Calls / Contacts
Calls
The Pantech Link makes calling easy, and it even has a surprising trick or two up its sleeve. Dialing with the keypad was a snap, even on the move, thanks to the well rounded keys. When you start dialing from the home screen, the Link will try to guess who you're calling from your address book entries. Once you've connected, you can use the dedicated key to activate the speakerphone, and you also get a few shortcuts presented on the calling screen, as well. There's a shortcut for the address book, a shortcut to send a quick message while you're in a call and a jump to the Web browser.
There's also a call recording option, which is a nice addition and could come in very handy if you need it. It starts recording silently, without any audible warning to your caller, and you can stop and start recordings during a conversation. These recordings are then saved as .wav files on the phone, but you can send them via MMS or Bluetooth or just transfer them to a microSD card for easier retrieval.
You can connect calls for a conference using the Pantech Link. This requires just a bit of menu digging to find the Join and Swap options, but the Link does give you a nice bit of control over a 3-party call. You can drop a line individually without hanging up on everyone, and it's easy to swap between callers.
Contacts
The Pantech Link has a nice looking address book, but it's a bit light on fields for my taste. I'd like to see more customizable options to add or remove fields. It's nice that you can send an e-mail directly from the e-mail address field in the address book, but I wish it would also link the street address to the AT&T Navigator app.
AT&T's new Online Address Book is featured on the Pantech Link, but I had trouble setting up the new service. Basically, AT&T provides online cloud storage for your address book, and you can even view and edit your contacts from an AT&T Web site. But when I tried to log on, the site gave me trouble recognizing my passwords and security answers, and I was never able to successfully log on.
Messaging
As one of AT&T's newest so-called Quick Messaging devices (read: feature phone with a QWERTY), the Pantech Link has a nice assortment of messaging options, but the interface and included apps don't seem to make messaging a primary focus. Sure, there are a few top-level menu options to help jump quickly into messaging, but the apps you'll find are the same as on any AT&T feature phone, with or without the full keyboard. I'd like to see AT&T come up with a more focused, unified interface for the Quick Messaging family, especially if these phones are going to be a priority for them.
AT&T has updated the text messaging app so that messages appear in a threaded, cartoon like format of conversation bubbles. It looks good, though on close inspection it seems unpolished. Words split awkwardly on line breaks ("this is a t / est message."). Pictures from MMS messages don't show up in the conversation, you have to open them separately. It's an improvement over the most basic SMS apps, but it could be much better.
The phone gets an aging Instant Messaging client with support for AOL, MSN and Yahoo. It worked fine, but I use Gtalk more frequently, and that service is missing, as is MySpace IM, both of which I've seen on other messaging phones. The mobile e-mail app costs a monthly fee, which is ridiculous if customers are already paying extra for a data plan.
For social networking fans, the Pantech Link uses AT&T's SocialNet app. SocialNet gives you status updates from MySpace, Twitter and Facebook, and you can post your own status to all of these services as well. You can even read RSS feeds through the SocialNet app. SocialNet lacks advanced functions, like direct messages in Twitter, and mostly sticks to gathering up your news feed from each service, but its a nice alternative to using the mobile browser for the same task. Of course, a real dedicated app from each of these networks would be even better.
Extras
Music
The Pantech Link had no trouble reading my music files off the microSD card. The player is simple, yet effective. You can keep the music playing in the background as you perform other tasks, and I listened to tunes while browsing the Web. There is an equalizer on board to boost the sound based on a few preset options, but you can't customize it yourself. Playlist creation was fast and easy.
There wasn't much I could do with the music player on the Pantech Link without a wired pair of headphones, and none of my cans worked with the phone since it uses a proprietary port for audio. Still, the Link connected easily to my stereo Bluetooth speakers, and music actually sounded clear on the built-in speaker, though it lacked bass, as I'd expect from a small speaker.
Beyond the simple player, AT&T also has a Shop Music option on the phone, and you can download tracks from Napster over the air. Songs cost $2 each, which is pricey compared to the competition. Sprint, Apple and Amazon offer OTA downloads for about $1 each. The store interface is also horrible, relying on the sub-par Web browser to browse and search for music.
Camera
Camera
The Pantech Link gets a dedicated camera button on the side, but the camera isn't very good. The interface design is clean, with translucent menus, but some keyboard shortcuts might have been helpful. There are very few settings available. A few white balance options and a couple of basic color modes are all you get with this camera. The self-portrait mirror on the back is laughably small. It's impossible to see yourself clearly in the mirror from any distance, let alone from arm's length.
Once you've snapped a picture, it can be confusing to get back to the live viewfinder again. The three contextual buttons, left, right and center, all lead to more options, either to the camera options, the photo album or the send photo menu, respectively. To take another picture, you have to either press the camera button again or press the "C" clear key. Holding the Pantech Link, it's much easier to shoot a picture by pressing the center of the d-pad, instead of pressing the camera button, so I'd like to simply press the d-pad again to take my next shot.
Image Gallery
The image gallery on the Pantech Link is simple, and it manages all the basic tasks for organizing and sending photos. You can view pics in a grid, or get up close in zoom mode to see fine details. There's a slideshow option, as well. From the gallery, you can send pics as MMS messages or upload them to AT&T's Online Locker. Sending pics to the Online Locker costs $10 monthly, or you can pay $0.35 per picture. I had no trouble transferring the files over Bluetooth from the gallery.
There are no editing options in the gallery. You can sideload pics to an external memory card, but there's nothing fancy about this barebones photo album.
Pictures looked okay in the photo viewer, but the camera is fairly low quality, and that definitely hurts the images. Preloaded pics looked much better than shots I took with the built-in camera.
Image Quality
Photos
The 1.3 megapixel sensor on the Pantech Link definitely screams low-end, and images were less than impressive. Besides being blurry and a bit cloudy, the camera's focal point was problematic. On close-up shots (close, but not macro close), the fixed focus lens would force the camera to focus on the distant background instead, blurring my subject. Too bad it lacks auto focus, always a welcome addition. Reds blew out the sensor, a common problem on small cameraphone sensors, and red flowers would bleed into their surroundings. Even under strong outdoor light, images looked washed out and lacked fine details.
Pictures from the camera will be fine for basic MMS messaging, but I wouldn't use these for sharing on social networking sites. The camera lacks an autofocus or flash, so it will only be useful under the best conditions, and even then its unimpressive.
Video
Videos taken with the camcorder on the Pantech Link were equally unimpressive. The camcorder can record at QVGA resolution, which is pretty dainty, and even then videos didn't look very good. Under the best lighting, colors were sharp and there was enough detail, but shadows were rendered almost completely black and the camera had trouble switching from bright light to more dim settings and back again. Motion caused a nauseating wave effect in my videos. Sound from the microphone also sounded muffled in my test videos.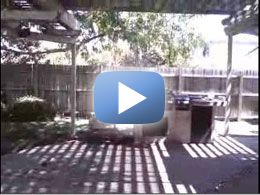 3GPP / MPEG-4 format (viewable with QuickTime)
File size: 885 KB
Browse / Customize
Browse
The Pantech Link uses the simplest of mobile Web browsers. It's sluggish, somewhat unresponsive and unable to render many pages in their full desktop mode, resorting to a truncated mobile view instead. You can set the browser to render pages in a non-mobile view, but the layout can be lousy, and some sites, like CNN and the New York Times, flat-out refuse to offer anything but a mobile page. Our own PhoneScoop.com homepage was passable, but the browser does not keep rendered images in memory, and it draws pictures slowly as you pan around a page. There is a zoomed-out mode where you can select a small portion of the page to view, and this was helpful, but it didn't make up for the sluggish navigation.
Text looks good in the mobile browser, and the default font is plenty legible, even for longer stories. Images suffered, even when the browser was set to high quality. Worst of all, though, the browser just seemed slow to load pages. Even over AT&T's 3G network, pages would stall and take longer to load than I expected. There's a progress bar at the bottom of the screen, but it doesn't actual meter your progress, it just tells you when a page is still loading, and this was frustrating. Even setting a page as a bookmark took an extra long time.
For simple mobile browsing, the browser will get the job done. But if you're expecting anything more advanced on this full-QWERTY, Quick Messaging device, it's best to look elsewhere.
Customize
There are very few options to customize the Pantech Link. You can change the basic theme of the device from a mostly white background to a mostly black. You can change the main menu layout from an icon grid to a list format. You can also add or remove shortcuts from the Shortcut menu on the standby screen. That's about it. You can't change the basic menu hierarchy, and there are no themes to offer a new look. There were no widgets or functional tools to be placed and arranged on the standby screen desktop.
Extras
Bluetooth
Setting up Bluetooth on the Pantech Link was a snap. There's a dedicated shortcut pre-assigned to the Shortcut menu to jump to Bluetooth settings, and I had no trouble pairing my Plantronics headset with the phone. When you're playing music, there's a menu option to quickly send the audio signal to a stereo Bluetooth device, and music sounded great through my Bluetooth speakers. I was even able to send a file to my laptop from the photo gallery.
Clock
The clock on the standby screen is easy to read, and I like that Pantech leaves the clock up top in the notification bar in many apps, though not all of them. It was also easy to set up an alarm with the Link, and the phone can use music files as alarm ringtones.
GPS
AT&T Navigator does turn-by-turn duties on the Pantech Link, courtesy of TeleNav. Even on the small, low-res screen, AT&T Nav does a fine job keeping track of the phone's location. It helped me out with driving directions in and out of the big city, and did a fine job suggesting alternate routes when I got lost. The time to first fix was fairly quick, a matter of seconds, not minutes, but load times in the navigation app were fairly slow, just as they were with the Web browser. It took a couple minutes to load up a map, even when the phone registered four bars of 3G service.
Video
Wrap-Up
In the end, the Pantech Link provides some nice hardware, but it's held back by lackluster software. The keyboard is very good, especially for a device at this price point ($10 with a contract at launch). The slim shell and rubberized back make this an easy phone to carry around. The screen is fairly low-res, but that's to be expected on an inexpensive, Quick Messaging device.
My biggest complaint is with the software. AT&T's interface needs to meet the needs of the audience for this phone. Instead of a standard feature phone interface, with only the most basic messaging features thrown in, I'd like to see an interface that's all about staying in touch. A unified inbox, built in support for Facebook and Twitter, even an improved Instant Messaging app would be an improvement.
The real kick in the shins, though, is all the extra fees that AT&T tacks on to use the basic services this phone provides. As a 3G phone with a full QWERTY keyboard, AT&T already requires either a $20 messaging plan or a data plan on top of your talking minutes. To then charge an addition $5 monthly for e-mail (seriously, for e-mail?!?), then another $10 to use the new Online Locker sharing service, is completely missing the point of the Quick Messaging category. Instead of those extra fees, you might as well pick up a cheap smartphone. The Nokia E71x, which the Pantech Link somewhat resembles, will cost you $20 with a contract, plus it uses a better interface and includes all of those extra services free.
Through no fault of Pantech's fine hardware, AT&T seems to be missing the point when it comes to this phone and its audience, who I suspect want a simpler, elegant phone for quick messaging and staying in touch without spending too much on monthly fees.
Is it AT&T's software or Pantech?
I know AT&T always has a say, but comparing the software from a Pantech AT&T device to, say the Samsung Strive, it's pretty different.

I always figured it had more to do with the manufacturer, unlike Verizon (I'm not sure about their current ones), where every phone had that same menu styling.
Both. Yes, the manufacturer probably does most of the work, but with a device like this, they are building to AT&T's spec.

It's up to AT&T to mandate a good browser, good messaging client, and good social networking features. If they were smart, th...
(continues)