iDEN Version of RAZR Cuts Through FCC
Article Comments 24
Oct 22, 2008, 4:12 PM by Eric M. Zeman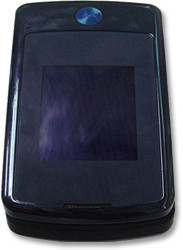 Documents seen on the FCC site reveal details about the Motorola i9, an iDEN phone that resembles the Motorola RAZR2 V9. The i9 comes with morphing icon keys on the front of the flip that will change depending on whether you are holding your phone in portrait or landscape mode. It will come with a 3.1 megapixel camera that has autofocus and records video. The i9 also has GPS, stereo Bluetooth, and uses microUSB for data transfer. It supports PTT and PTX features as well. Neither Motorola nor Sprint has officially announced the i9. FCC documents do not include pricing or availability information.
Sprint = Network, Motorola = Phones
Sprint + Motorola = Business Relationship

Blame them both for the iDEN RAZR not just
one. They have a vested interest in each other,
thats what business relationships are.
Sprint is the most idiotic company in the industry....
They were great 2003-2006. Now they are garbage. Why release more iDEN phones when you have a HUGE "FOR SALE" sign on the network? Concentrate on getting more and better CDMA exclusives. They really dropped the ball in letting Verizon snatch up the Blackberry Storm. Glad I left that sinking ship...
No, this isn't Sprint. This is Motorola. Motorola is the company that controls iDEN and the Razr. Motorola was the one who dropped the ball.
EliteABombAZ said:
... Why release more iDEN phones when you have a HUGE "FOR SALE" sign on the network? ...
😕 That fact that they might sell the iDEN network is *exactly* why they are still releasing phones for it....
(continues)
Seriously people, be glad that they are at least still coming out with phones for Nextel. If they were jerks about it, they would have forced people to move over to the Sprint side of things. Obviously they havent because there are still a lot of peo...
(continues)
Does everyone know that IDEN was Motorola's baby? Why do you think that all IDEN were moto's before the merger. Moto does control when and what phone goes where.
Touch screen
The Phone also has a touch screen on the outside which can contol the music that is being played, you can also watch videos on it.
Hmmm...
I'm simultainiously suprized and worried about this. Suprized because its about time Motorola gets a iDEN Razr but worried for the people in the construction idustry who get this device.
lol, why? I have some ideas but I want to hear your thoughts 😁
It IS the CABO.
And it has a better megapixel res. than the other RAZR2s.