Samsung Brings the Epix to AT&T
Article Comments 14
Oct 21, 2008, 9:20 AM by Eric M. Zeman
updated Oct 21, 2008, 9:33 AM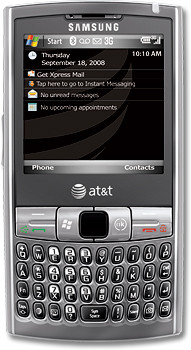 Today Samsung and AT&T announced the i907 Epix, a new Windows Mobile 6.1 Professional smartphone. The Epix has a touchscreen and an optical mouse for interacting with the device. The optical mouse can also be switched to a four-way D-pad for more traditional navigation. It has a 2.5-inch display and a full QWERTY keyboard. The Epix has tri-band 850/1900/2100 MHz HSDPA for 3G network access and has quad-band GSM/EDGE radios, aGPS, Wi-Fi, and stereo Bluetooth. It has a 2 megapixel camera that can also capture video, and the Epix can use AT&T's VideoShare service, streaming live video to another phone. The Epix has a slot for microSD cards and can support cards up to 32GB. It comes with support for Microsoft Exchange email, as well as POP3 and IMAP email and other messaging services such as SMS and MMS. The Epix will cost $200 with new contract after rebates.
Anybody notice...
Yesterday when it went on sale online it was only $199.99 with a $100 MIB! Jumped up 100 bucks in one day!
Hey Phonescoop!
Why is this phone not listed with all the other samsung phones?? At&t already has this phone for sale!
Best fone to hit AT&T
this phone is great. as an att employee we see a lot of good phones go to other carriers, but att finally brought an amazing phone on board. what is known to many as the BJ3 the processor is the fastest ATT has seen and the form factor is great. finally another pocket pc phone that is smaller then the tilt!!!
Do you know what size the processor is??
Couldnt find any info besides the RAM size.
I guess I picked a bad tiem to leave at&t. ☹️
so this is basically...
a touch screen blackjack? damn, i should've waited! :lol
so much more then just a BJ i love both of the BJ's but this has wifi pocket pc software and is a rocket ship processor. great phone