Review: Casio G'zOne Brigade
Form Basics Extras Video Wrap-Up Comments 30
Is It Your Type? Body The Three S's
Mar 18, 2010, 10:17 PM by Philip Berne
The Casio G'zOne Brigade is the toughest phone you can buy with a full QWERTY keyboard. It's waterproof and shockproof, but still packs plenty of Verizon Wireless' 3G multimedia features.
Advertisements article continues below...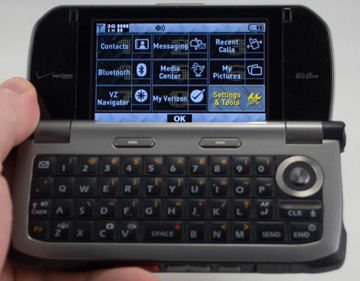 The Casio G'zOne Brigade is the only phone available from a major U.S. carrier that gives you a full QWERTY keyboard to send text message from the beach . . . while surfing. It's built like a tank, and almost as large. Because it's so durable, and practically alone in its class, it's easy to forgive some shortcomings.
makes me sad.
I just was forced to upgrade due to busting my phone and not being able to go very long with out a phone. I currently work at a call center for t-mobile but just recently landed a job working on cargoships in the great lakes. I fear my lil motorola Rival will just not make it very long out there. This phone would be perfect on all levels and full price is just out of my price range 😢

My dad actually has been using 2 type-s (one for work and one for personal use) since release and they have been amazing considering he works in consturctual steel (actually backed over the one with his semi). The past few g'zone models have been a little disappointing and finally we get something worth having.

You could call my family some g'zone ...
(continues)
I mean is it water proof or splash proof?

Can you just put the thing under water and just start recording underwater activity?

Please anybody clear this up for me, thanks. 😉
threaded messaging
this phone has threaded messaging, the review is wrong. where did you hear this has flash light for the browser, no one at verizon has heard anything about that