Alltel Feels LG's Rhythm
Article Comments 6
Oct 16, 2008, 7:44 AM by Eric M. Zeman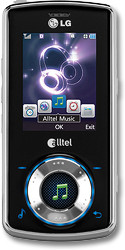 Today Alltel announced the addition of the LG Rhythm to its roster of phones. The Rhythm is a music phone that includes digital signal processing, a graphic equalizer, an FM radio/transmitter and a 3.5mm headset jack for regular headphones. It has a one-inch circular touchscreen control panel below the main display that lets users interact with their music. It also has a 1.3 megapixel camera with camcorder, Bluetooth 2.0 with stereo, GPS, and a microSD external memory port supporting cards up to 16 GB. The LG Rhythm will come in black or white for $119.99 after $50 mail-in-rebate and a two-year service agreement.
US Celluar in early Nov.
US Cellular will be adding this bad boy and his exclusive sister soon. Should be out early Nov.
It's going to suck like a dyson....
LG phones are terrible, what's worse is the fm transmitters in these phones. mark my words when i tell you it wont have enough power to juice up your radio in your car. for those who are ready to ask "why would i need an fm transmitter in my car?" in order to mock me....it's not for radio it's to play mp3's from your phone on another source like the cd deck in your car. 🤣
im sorry you are wrong the FM Transmitter is good.

There was a good FM Transmitter in the Fusic for Alltel, Sprint and US Cellular. The AX-565, LX-565 and UX565 respectivly.

The Rhythmy For Alltel and US Cellular (AX-585,UX585) will have an impr...
(continues)
This is one hideous phone!!
Can you say Chocolate anyone. There is not one leather case or faceplate sticker in the world that will make this phone look good. Fotunately Alltel has a bunch of better looking and more capable phones that do the same job as this ugly duckling. I can't wait until this merger with Verizon goes through so Alltel will stop trying to match Verizon ugly phone for ugly phone.
Looks suspiciously like the Venus
Except it has keys instead of the partial touch pad