LG, Prada Team Up for A Sequel
Article Comments 7
Oct 13, 2008, 7:13 AM by Eric M. Zeman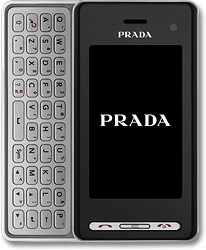 Today LG announced the Prada II, successor to the Prada, released in 2007. The largest difference between the two is that the Prada II has a slide-out QWERTY keyboard. It has dual-band 850/2100 MHz 7.2Mbps HSDPA radios and Wi-Fi. The camera is 5 megapixels and has a Schneider-Kreuznach certified lens. The Prada II will be availabe in selet European markets in the fourth quarter for 600 Euros ($818).
hope thats a mock up
because that phone looks pretty lame. the screen needs to be bigger is the main problem with it.
I think it's a fine looking device, I think that price is a bit high though.
meh......

its hardly ground breaking, nor does it really look any diffrent then any of the other PPCs.

800 bucks...wow.....
The screen does look small. For that price the screen schould be atleast the size of the iphone of better.