Review: Motorola Backflip
Form Basics Extras Video Wrap-Up Comments 22
Is It Your Type? Body The Three S's Touch
Mar 9, 2010, 12:34 PM by Eric M. Zeman
AT&T lands the Motorola Backflip as its first Android handset. Based on our experiences, it's tough to recommend to anyone other than the most diehard Motorola and AT&T fans.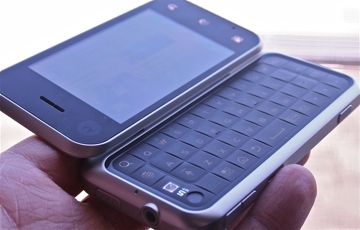 The Backflip by Motorola is what we at Phone Scoop refer to as an "odd duck." Why odd? Well, it has a unique form factor in its back-flipping keyboard. That oddity aside, the Backflip is a much better effort from Motorola when compared to the Cliq and the Devour — at least as far as the hardware is concerned. It's also AT&T's first Android handset. If you're an AT&T customer and have been longing for an Android handset, this could be your ticket to tech bliss, but there are a few major drawbacks worth noting.
thanks for being honest...
it's about time at&t gets called out on their bs...
"The main menu has been littered with AT&T apps..." - I couldn't have worded it any more perfect. at&t really cannot grasp the concept of customer choice.
Don't see how it's any different then VZW throwing all their crap on the Devour. Of course companies like AT&T and VZW want their stuff on phones they sell. They hope people will pay for them and make more money.

Only thing I think AT&T shouldn't...
(continues)
get real
Every real person I have talked to that has this phone loves it!!! I mean really loves it!!! There are thousands of really great apps with easy access to them right from the phone, and most are free! You can create a google shortcut on your home screen in about 2 seconds. This is the most customizable phone I have ever seen! You can make your home sceen have what ever you want on it. I haven't seen that on many phones! Delete the AT&T stuff you don't want. It takes a half of a second. Sure, the battery could be better. But, my wife and I have both been using this phone non-stop since we got them and it makes it through a day just fine. Simply charge at night by your bedside which is what I have done with every phone I have ever had...
(continues)
It's definitely a nice phone and for the price, you can't beat it. As far as Android phones go... 😕
Great phone +potential
I saw a backflip at the AT&T kiosk on Friday the 5th, and for some reason they sold me the phone two days before the official launch.

phone is great. my biggest complaints would be the processor speed, and the battery life, and the lack of push facebook notifications from a native facebook app, especially with a phone that boasts its integration with social networking sites.

Contacts are awesome. The way I see it is most people have hundreds of contacts, so even if that number were to double via the induction of an entire facebook friends list doesn't change much. Just search by typing the name. My favorite part of the contacts is how they display the latest facebook/myspcae/twitter status update, gives email addresses, and facebook ph...
(continues)
At least one will have Android 2.1 😁
Google Music
The article mentioned that the default google music player was burried in a sub-menu. Can somebody offer a hint on where? I haven't had any luck finding it.

Todd
design is just plain wacky
dont know how it ever got past the napkin
seriously... but i'm sure some will love it
Have you played with one? It's actually quite functional.
Outdoor visibility
I am not quite sure how you can claim that the screen is useless outdoors. It has the same reflectivity in sunlight as the iPhone and the Storm 2. I have compared them all side by side and there is no difference in visibility under direct sunlight. It kind of makes me wonder if this aspect was actually tested. If the device were AMOLED it would likely be even worse.

I have had this phone since Sunday and the only real complaint I have is that battery life could be better. However, many times in the past for me the battery life improves after the first few full charges.
I also forgot to mention that Motorola has already committed to a 2.1 build of Android for this device. Most of the delay in 2.1 has been attributed to the necessary updating to the blur portion of the software.
AT&T ruined an already struggling phone
The Backflip was not a great execution to begin with, as you clearing pointed out in your review.

Any hope this phone had of making any dent or convincing anyone in the marketing that AT&T was ready for Android was destroyed with the way they treated this device.
Removing Google Search is an insult and a tragedy of the highest degree. On top of that not allowing users to install "unknown" applications on this "open" phone is ludicrous.

AT&T has really destroyed my faith in them on every level. It is truly sad that the largest Cellular company in the US is so stupid when it comes to Cell Phones
While I think it sucks that google search and other services have been removed I think that most people forget the simple fact that the MAJORITY of the public could give two poops about adding apps that they find on some random developer's blog. I'm ...
(continues)
Didn't agree with the review
A few exaggerations ( esp on size and weight).

One way to conserve the battery is to remove the Happending widget from the homescreen and just let it be part of the menu and you look thru it as when you want.

Only thing I agree with is all the ATT programs everywhere.

This is an excellent phone depending on what you are upgrading from
I prefer customer reviews from those who have to use the devices everyday.
I don't recall ATT ot Motorola saying this would be the latest and greatest device above all others. So the reviewer needs to step back.

I have this phone and love it.