Review: Motorola Devour
Form Basics Extras Video Wrap-Up Comments 4
Is It Your Type? Body The Three S's Touch
Mar 2, 2010, 1:54 PM by Philip Berne
Is the Motorola Devour the Droid's little sister, or is it a social butterfly all its own? Phone Scoop takes a longer look at this intriguing aluminum Android device, running Motorola's Motoblur interface.
AD article continues below...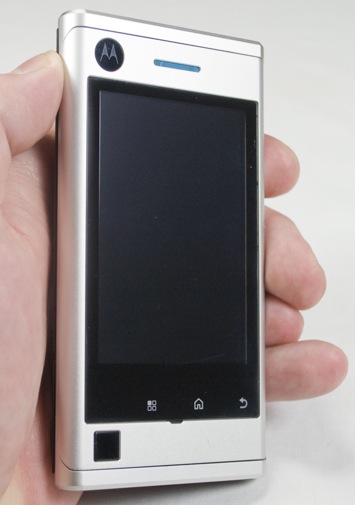 Motorola's second Android phone on Verizon Wireless opts for social networking features and Motorola's Motoblur interface over the raw power of the Motorola Droid. If keeping in touch with your Facebook and Twitter friends is more important than a high-res screen and a stealth fighter look, the Motorola Devour is worth a look.
Don't you think it's time to move the browser out of the "Extras" section?
Granted, there isn't much more to say, but I would like to see how easy it is to navigate around, visit other pages, or even if it supports multiple windows.

I was playing with a Backflip yesterday, and everything looks similar to this one. One thing that was annoying was navigating to a different page required you to bring up a separate menu, choose "Go," and then type in the URL. This just seems like a pain, when the title bar already shows the URL, you just can't select it to change or type in another one.

But overall, very good review, I just think the review layout needs some retooling for 2010.
Video review
Why is the video review set to private?
Signal
Yeah I've noticed the signal on the Devour isn't that great. I was out today in a few places and it claimed I was romaing at times, 3G was off and on, etc. A friend is with VZW and has the Curve 8330 and she was having no problems.

I had even done the *228, then 1 and also 2. Doesn't seem like it helped much at all. Hope they can release a software fix for this and do it soon.