Nokia's First Touch Screen Phone Comes to Light
Article Comments 34
Oct 2, 2008, 11:30 AM by Eric M. Zeman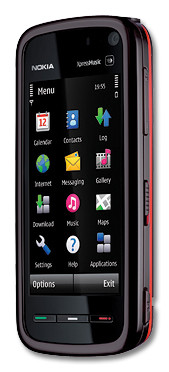 Today Nokia announced the XpressMusic 5800, a new touch screen-based device that is aimed at the youth market. The 5800 will come with several different radio configurations, including one for European markets and a quad-band GSM/EDGE dual-band 850/1900 MHz HSDPA variant for North America. It also packs in stereo Bluetooth, a-GPS and Wi-Fi. The screen measure 3.2 inches across and 640 x 360 pixels for QVGA resolution. It uses touch-resistance (not touch-capacitance) technology for the touch screen and haptic feedback. Other specs include stereo speakers, a 3.5mm headset jack and a 3.2 megapixel camera with Carl Zeiss lens and dual LED flashes. The camera also shoots video at 30 frames per second. It will run S60 5th Edition, which is adapted to work with touch input. The updates to the S60 include a new contacts bar, a new media key and simplified menu systems. The 5800 will be boxed with lots of accessories, including an 8GB microSD card, though the phone will support cards up to 16GB. The phone will be available in European markets starting in the fourth quarter of 2008, and other markets, including the U.S., in the first quarter of 2009. Pricing information was not immediately disclosed.
and please stop saying their 1st touch screen it is not!!
it is their 3rd touch screen as the 7700 was the 1st and the 7710 which i own is the 2nd
IMPEREAL said:
It is their 3rd touch screen. The 7700 was the 1st and the 7710, which I own, is the 2nd.
I've never heard of either one of them.
I think this is a very well rounded device.
1. It has a REAL headphone jack. Stereo speakers!

2. It will have U.S. 3G bands.

I and it comes pre packaged with an 8GB card.

I'm not going to be naive enough though to hope for AT&T to pick it up, bc AT&T is addicted to offering they're customers txt'g phones. But refuses to carry the very best that Nokia has to offer.
We might be lucky, AT$T is in on this symbian opensource thing, might carry over to something like the 5800. Nice looking phone too, makes the TM G1 look like a toilet bowl brush.
sounds like the blackberry storm, minus wifi (that kills me)
why???????????????
why targeting the youth market???? i know there is tons of money to be made in that market.

what about us hard working people that aren't willing to get our kids a fancy phone?

either way, i will wait for future models. i am sure nokia will come out with something good like they always do.
I hear you! I don't understand it but in my area it seems kids with no jobs and are not old enough to work have Treos BBs iphones etc. It puzzles me why parents allow their kids to have so much internet power at disposal in their hands. I don't mind f...
(continues)
This phone is dead before it even hits the market...
"It uses touch-resistance (not touch-capacitance) technology for the touch screen and haptic feedback."
It needs to use a resistive touch screen in order to work with a stylus, which is all but necessary for Asian languages.

I would prefer a capacitive screen too, though. ☹️
..you lost me at resistive
🙄

I think manufacturers underestimate the impact this has on user experience.