Samsung's Pixon Has 8MP Shooter
Article Comments 32
Sep 29, 2008, 7:08 AM by Eric M. Zeman
updated Sep 29, 2008, 7:26 AM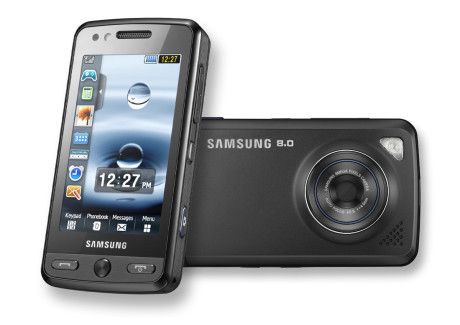 Today Samsung introduced a new phone called the Pixon. The Pixon's primary feature is an 8 megapixel camera with auto-focus, fast-shutter, face detection, geo-tagging and LED flash. It features a photo browser that interacts with the accelerometer to flip through photo albums. The video camera can shoot at 30 and 120 frames per second, allowing for slow motion playback. It also has a feature that creates a virtual 5.1 channel surround sound audio mix of what you record. The Pixon resembles a camera and has a 3.2-inch touch screen and it measures 13.8mm thick. According to the photos, it uses Samsung's TouchWiz user interface. It has quad-band GSM/EDGE radios, as well as HSDPA 7.2 Mbps at 2100MHz, Bluetooth 2.0 and an FM radio with RDS. It has a TV-out jack and supports microSD cards. The Pixon will be available in select markets starting in October.
Lemme guess.....
... this is another phone that America's not getting, right?
I'd give it some time [3 mo] for an American version.
carrier
I am assuming its for AT&T??
Unless T-Mobile gets it...
why not verizon? they always have great phones and need a good touch screen to compete with iPhone.
Did you read the part in the article that says it's 3G band is 2100mhz??? ATT 3G works on 850/1900mhz, the band that is neglected by most handset manufacters!!!
What about Battery consumption?
Battery consumtion times on a regular digital camera is limited.
Battery consumtion times on a phone with web browsing is limited.

Couple these two things together and I am sure there will be some depletion in battery performance. But either way this looks like a cool device.