Pantech OZII With Helio Branding Vaults FCC
Article Comments 3
Sep 19, 2008, 8:10 AM by Eric M. Zeman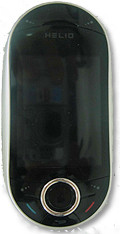 A new dual-slider from Pantech with Helio branding on it has been approved by the FCC. This phone, called the OZII, resembles the Pantech Ocean in most respects and has a QVGA display, standard numeric keypad and a QWERTY keyboard for composing messages. The styling has been updated compared to the Ocean, and it looks sleeker. It has EVDO 3G and a full HTML web browser. It also comes with stereo Bluetooth, a slot for microSD cards and a 2 megapixel camera with flash that also records video. Virgin Mobile, which recently acquired Helio, confirmed that it is committed to launching the Ocean 2. While the FCC documents do not call this device the Ocean 2, this is likely the phone Virgin Mobile was referring to.
I was actually expecting more...
With the exception of being 3G, the original Ocean had everything described for the OZII! Although, the OZII does look much better than the 1st...it's been a year and a half already! I'm surprised they didn't at least upgrade to a 3.2 mp cam! Not hatin'...just not that impressed.

I've really enjoyed using the Ocean. But, after waiting for so long...I'm not happy with these new (yet same ol') stats. Unless there's something else new & exciting in that device...I'm more seriously looking at going back to Sprint.

HTC Touch Pro keeps callin' my name 😎
It's about time.
😁 I can't wait for this t come out! I have been waiting to go to Helio since I heard about this phone. I want it so I can have a second phone to back up my T-mobile phone. And the Ocean was my #1 pick. The Ocean 2 is gonna be even better. 😁
About time for the Ocean 2 Launch
I am looking forward to upgrading my Ocean 1 to the Ocean 2 and enjoying the background music while messaging and browsing. The service is great and the device is a great business tool with built in GPS, web browsing etc. Are there any others out there?