Sony Ericsson Rolls Out G705 with U.S. 3G
Article Comments 7
Sep 9, 2008, 7:07 AM by Eric M. Zeman
updated Sep 9, 2008, 7:40 AM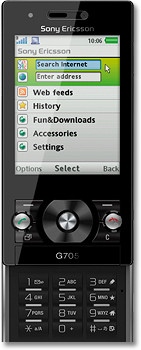 Today Sony Ericsson announced the G705, a new slider that has quad-band GSM/EDGE radios, and will come in a tri-band 850/1900/2100 UMTS/HSDPA variant as well. It has stereo Bluetooth, a-GPS for navigation applications, FM radio and Wi-Fi. It comes with a full HTML browser and the screen will automatically switches from portrait to landscape when the phone is rotated. The G705 has a 3.2 megapixel camera that can capture YouTube-compatible video and supports video calling features (network dependent). It will be boxed with a 1GB memory card, and will be avaiablle in select markets in the fourth quarter.
What provider is going to be carrying this?
What provider is going to be carrying this?
Most likely, none. It doth not use the AWS 3G band of T-Mobile, and AT&T doth not carry stylish, but generic sliders. It would compete too muchel with the Walkman W760, which is similar.
convert any format to swf
why not try [url=http://www.video-to-flash.com/]Flash Video MX Pro [/url],it can converts AVI to SWF/FLV, DVD to SWF/FLV, MOV to SWF/FLV, WMV to SWF/FLV, MP4 to SWF/FLV, 3GP to SWF/FLV, MPEG to SWF/FLV, etc.
u can try Sony Ericsson's format convert to swf/flv,share with friends.
http://www.video-to-flash.com/ »