Review: Samsung Omnia II
Article Comments 4
Dec 15, 2009, 4:55 PM by Eric M. Zeman @phonescooper
Samsung's second take at the Omnia adds tons of features to this Windows Mobile and TouchWiz-based device. The Omnia II earns high marks in calling and camera performance, but comes up short in a few other areas.
AD article continues below...
Form
Is It Your Type?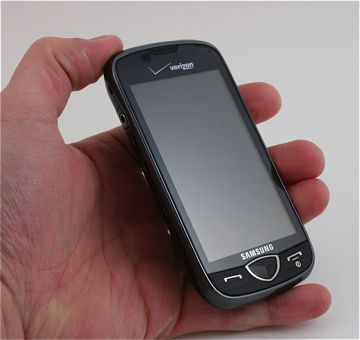 Samsung's latest Windows Mobile 6.5 phone also runs the TouchWiz 2.0 user interface, meaning it skips most of Microsoft's experience and substitutes Samsung's. If you're looking for a smartphone packed with software and features galore, the Omnia II just might be for you. There are a few drawbacks to consider, however, and Phone Scoop weighs in on this weighty device.
Body
There's no denying that the Omnia II is a chubster, a fatty, a tubbo... a beefy device. I can't for the life of me figure out why it is so large. It is a monoblock phone that is thicker than some sliding QWERTY devices out there. And it weighs a ton. It feels downright huge in your hand. All the size and weight to inspire confidence, though, and make the Omnia II feel tough and strong (it is NOT rugged). It's smooth sides and back mean it will slip into a pocket without problems, but dang, you are gonna know it's there. Tight jeans? There's going to be a bulge.
The front of the Omnia II is mostly consumed by the large touch screen. Nestled along the bottom of the Omnia II are three buttons. The middle button serves a number of purposes — which at first aren't obvious. Given Samsung's history with optical mice on its phones, my initial thought was that this center button was an optical mouse. It's not. First and foremost it is the button to press if you want the main menu. It serves as a selecting button on some instances, and a "back" key in other instances, depending on where you are on the operating system. This inconsistent usage takes some getting used to. Flanking it on either side are the send/end keys. All three buttons have good travel and feedback.
The left side of the phone houses several controls. Closest to the top is a very welcome 3.5mm headset jack. It's nice to see Samsung finally coming around on this feature and getting away from that ridiculous proprietary port. The volume toggle is below the jack. It is easy to find, though the "up" direction doesn't work that well; it's mushy. The "down" side works perfectly, though. Last on the left is a voice-activation / application key. It is rather small, but has good travel and feedback.
The hatch for the microUSB port is positioned in the middle of the right side. Accessing and using it is no problem. Below it are two keys. First is the lock/unlock key. It is a little on the small side, but has good travel and feedback. The camera key is directly next to it. This key also has good travel and feedback. Their positioning is bit of a pain, though, because the buttons literally touch each other. It is all-too-easy to accidentally press one when you mean to press the other. Believe me, that gets old really fast. There is also a stylus buried in the top right corner. It is tucked in there nice and tight, but retrieving it is no problem.
The battery cover snaps off easily. If you need to swap out the battery or microSD card, the hatch isn't going to get in the way. You do have to remove the back battery cover to get at the microSD card (thankfully you don't have to remove the battery.)
Everything about the hardware of the Omnia II works, aside from a few quirks. It may be big and heavy, but it has been put together well and functions mostly without issue.
The Three S's
Screen
The Omnia II's 3.7-inch, 800 x 480 pixel AM-OLED display is simply spectacular. It is bright, sharp, colorful, and highly readable in any environment. Direct sunlight is no issue for the Omnia II's display. The sheer number of pixels crammed into this small space make web sites, text, images and video look as good as one can expect on a mobile device. Any phone that wants to stand with the top of the line products needs to hit the 800 x 400 benchmark that's been set by a number of devices lately. The Omnia II does so with ease.
Signal
The Omnia II can of course connect to Verizon Wireless's EVDO 3G network. I had no signal issues with the Omnia II during my time with it. It always managed to latch onto Verizon's network with no problems. The number of bars in the signal indicator bounced around a bit, but I never missed any calls, nor dropped any calls. On the data side of things, I noticed only two instances of timed-out connections, but that was all. With Wi-Fi on board, you know you have an alternative if there's absolutely no cellular network availability.
Sound
Voice calls sounded quite good with the Omnia II. The earpiece was loud enough for most environments and I noticed very little noise or interference when conducting calls. Those to whom I was speaking noted nothing out of the ordinary and had no trouble hearing me. Ringers were plenty loud, as was the speakerphone. It would be quite easy to hop onto a conference call, put the Omnia II on speakerphone and busy yourself cleaning up around the house. Bottom line, no issues here, move along.
Battery
Battery life was consistent with what I now expect on highly connected devices. If you're running all sorts of Internet-based software — such as social networks — and have email delivered constantly, you'll get through an entire day (from the time you get up to the time you go to bed), but not much more than that. You're going to need to charge this device every night, unless you use it very sparingly. That's the new reality.
Touch Screen
The Omnia II has a whopping 3.7-inch display with a touch layer of the resistive type. I want to take the time to talk about it separately because it is perhaps the best and most-responsive resistive touch screen I have used. Once calibrated properly, the Omnia II's screen reacts to the lightest touches. You can touch it so lightly, that you almost believe you are interacting with a capacitive display. Long story short, if you're on the fence about the Omnia II's resistive display, I highly suggest you prioritize other features, because it performs very, very well.
Basics
Menus
You could get away with using the Omnia II and not ever discover that the device runs Windows Mobile 6.5. Samsung has taken its TouchWiz 2.0 user interface further into the operating system that I've seen in the past, meaning that most of the software users will interact with is Samsung's. (It should be noted that users can choose to turn TouchWiz off , if they so prefer.)
The best part about TouchWiz 2.0 is the home screen. The home screen is a fully customizable desktop area where you can drag and drop widgets and shortcuts to pretty much any application you want. When you first get the phone, you'll see a little tab on the left side of the screen close to the top of the phone. Touch this tab and a dock pops up from the left side, similar to the dock in Mac OS X. The dock is easily opened and closed with this little tab. Here, you can snag the widgets and drop them onto the desktop, or you can take them from the desktop and drop them back into the dock. You can also open applications directly from the dock.
Samsung has dozens of widgets that can be used with the dock available for download. You can scroll the dock up and down to see the other widgets in there. Using the menus, you can control which widgets are visible and which aren't. The default is to make them all visible. There are three "home" screens that can be populated with widgets, apps or content, depending on user preferences.
The main menu has all of the phone's software and Verizon services laid out in a basic grid. There are so many applications stuffed onto the Omnia II that there are actually FIVE pages reserved for the main menu. You simply swipe left or right to get to the other menu pages (similar to the home screen on an Android phone).
There's a task switcher button at the bottom of the main menu that lets you jump between open applications quickly. It allows up to nine apps to run in the task switcher at a time, and displays a nice screenshot of the app so you know what you're jumping back or forward to.
The most notable change with TouchWiz 2.0 is the 3D cube interface for media. The cube is a 3D image that floats in the middle of the screen. Below it is a dock with a handful of buttons. The cube has a different application on each side making for a total of six. You can spin the cube around on the screen to find and open the application you want, such as the photo gallery, music player, and so on. It's neat, and looks cool. I am not sure that it's the most practical way to access your applications, but I've seen much worse. It takes a little while to get used to the positioning of the six applications, but it's not too hard to get the hang of.
Calls/Contacts
Calls
Unlike many other of today's touch-based phones, the Omnia II still has send/end keys. This means you can quickly pull up your recent calls and redial a number almost instantly. I like that. The software dialpad is nice and large, and works perfectly. There are software send/end keys also on the screen, duplicating the hardware buttons. In between the send/end keys are shortcut buttons to your phonebook, favorites and recent calls. Touching any of the call logs will bring up information about that particular call. A second press will place a phone call.
When in a phone call, there are six on-screen buttons for the speakerphone, mute, notes, contacts, plus send/end keys. Calls are easily saved from the log to your contacts. There is also an options menu that can be accessed for more calling features.
In sum, operating the phone part of the Omnia II is a cinch. There's nothing confusing or awkward about it. It just works.
Contacts
The Omnia II will sync with desktop PCs, Microsoft Exchange accounts and of course can back everything up to the My Phone service from Microsoft if you so wish. Contacts are NOT displayed in the standard WinMo skin. Rather, they look and behave more like you'd expect the contacts app on a feature phone to look and feel. There are icons everywhere, with big green buttons next to each contacts' name for placing calls. In other words, it is very finger friendly. You can perform almost all the functions needed without using the stylus, that's for sure. Each contact can hold a ridiculous amount of information.
There is a scroll bar on the right side of the main contacts page that's easy to snag with a finger and drag down the screen to zoom through large contact lists. Alternately, you can pull up the software QWERTY keyboard and start typing (or Swyping, more about that later) out a contact's name to find them faster.
Within each contact, it is of course a snap to initiate any sort of message, call or other method of communication.
Messaging
The Omnia II supports every sort of messaging client you can think of. In fact, it probably supports too many. For the highly connected individual, someone, somewhere is always going to know how to find you, whether it be via SMS, IM, MMS, Twitter, Facebook or email.
The Omnia II has a simple POP3 email client, Exchange support, and Verizon's for-pay email program. The POP3 client is what most people should user. It's a simple as entering in your credentials on sites such as Yahoo, AOL or Hotmail and away you go. Exchange is for business users, though enterprising people who run their own email servers can get that working with their accounts. Personally, I say skip the Verizon email software, which requires monthly fee.
The messaging software doesn't offer up any real surprises. SMS and MMS messages are mostly a breeze and are thankfully threaded into easy-to-read conversations.
The IM clients all work pretty well, though it is Verizon's IM software, which hasn't changed in forever. It supports AIM, Windows Live Messenger and Yahoo. Where's the Google Talk?
There is also a fully functional Windows Live client on the Omnia II, which supports email, contacts, search and spaces (but not a better version of Live Messenger?).
There's a Facebook application pre-installed and it is OK, but it doesn't come close to matching what's available for the iPhone or BlackBerry platforms. It allows users to access the basics, such as their profile, news feed, messages and so on, but not stuff such as notes or events. MySpace is available, too.
There are no pre-installed Twitter apps, so you're on your own to find and download them.
Swype
One of the interesting things that the Omnia II brings to the table is new technology called Swype for inputting text. Swype was created by the same person who invented T9, so you know there's a capable developer behind this application.
Swype works by allowing users to swipe the letters of a word on the software QWERTY keyboard of a touch phone to spell them. For example, to spell the word "phone" a user would place their finger on the "p" and then (while keeping pressure on the screen) slide their finger to the "h", "o" and so on. When the user lifts her/his finger, the word will appear in the text box. If there are multiple matches to a given pattern on the keyboard, Swype will offer suggestions that can be easily inserted into a text box. It works with a finger or stylus, and Swype claims that adept users can reach typing speeds of 30 words per minute.
In theory, it sounds great, right? In practice I found it to be hit or miss. The weird thing is, the longer the word, the better it is. For example, spelling out "Constantinople" gave the Swype software less trouble that spelling out "type." Don't ask me why, I didn't write the software. In my unscientific tests, I found it to be slower than just typing on the keyboard normally. I am sure that practiced users can eventually become quite fast, but my first experience was mixed.
Here is a video demonstration:
Extras
Music
The Omnia II plays music and video files no problem. It uses a media player that was either written by Samsung or is a skin for Windows Media Player. I actually could not locate Windows Media Player on the phone itself.
The media player is no great shakes, but it is pleasant to look at and lets you do the basics, such as sorting between artists, songs, albums and playlists. You can set loops, and shuffle songs, but that's about it when it comes to playback options. There's also a mini-player that is built into the TouchWiz user interface and accessible from the dock on the home screen. It is the same mini-player that's found on other TouchWiz phones.
The Omnia II is also littered with Verizon's music software, such as V CAST/Rhapsody and Song ID. The V CAST Music software is the same old story that we've seen on Verizon Wireless phones since 2003. Time for a refresh, Verizon. Just sayin'.
I am glad that the Omnia II has a 3.5mm headset jack. Stereo Bluetooth support doesn't hurt, either. You're going to be able to playback your tunes with no problems, but it is a basic experience and offers no frills. Thankfully, music playback sounded good.
Camera
Camera
The Omnia II has a 5 megapixel camera with flash and video capture. Samsung has loaded its capable camera software on the Omnia II, and that gives users plenty of options when it comes to controlling the camera. For my money, the camera takes too long to launch — about three seconds.
Like the camera on other Samsung phones, touching the screen will bring up two curtains on either side of the viewer with all the controls. These let you switch between still/video capture, different shooting modes (single, continuous, smile, mosaic, panorama, action), scene modes (portrait, landscape, sunset, etc.), the resolution and more in-depth functions. The right side has controls to turn the flash on/off, turn on/off autofocus, and set brightness. It takes about 30 seconds to figure it all out if you're not familiar with this software.
Once you have the options all sorted out, press the shutter button to capture an image. The Omnia II takes about one second to focus and another to take and save the shot.
The video software is nearly identical in behavior to the still image software.
Gallery
There are two ways to interact with your images. The prettier, more fun way is to access them from the 3D cube. This brings up a 3D carousel of images floating like post cards on the display. You can swipe through them to see all the different images. The problem is, you can't do anything in this view your images. You can look, but not touch.
In order to actually do stuff with your images, you need to go into the full gallery app, which is easy to do from the post card view. Once in the main gallery, the options to control your images are practically endless.
Sending them as MMS or email attachments is a snap. Uploading them to photo sharing sites is easy, as is setting them as your wallpaper and so on. The editing functions are solid. You can flip, rotate, crop, and re-size images, as well as alter brightness, contrast and choose from a few effects.
Samsung typically offers good software for its cameras and the Omnia II is no different.
Photos/Video
Photos
I found photos taken with the Omnia II to be pretty good. It has 5 megapixels. Full-sized images were sharp and clear. The Omnia II managed to get white balance right in even difficult settings. Obviously, photos taken with bright lighting — such as outdoors — were good. The Omnia II also did fairly well indoors. The flash helps quite a bit when taking close-ups of your friends and family. You're not going to be shy about posting images captured with the Omnia II to Facebook, MySpace or any other photo-sharing service. The Omnia II certainly can replace a point-and-shoot in a pinch.
Videos
The Omnia II can shoot video in four different resolutions, including high-def 720 x 480, 640 x 480, 320 x 240, and MMS-friendly 176 x 144. You can also shoot in slow-motion. This gives users a lot of flexibility when it comes to shooting video.
The results are quite good. There'd be nothing stopping the enterprising film maker from piecing together some fun clips into a short movie. Exposure and white balance were accurate and grain was minimal.
Browse/Customize
Browser
The Omnia II has both Opera Mobile and Internet Explorer 6 on board. The default browser is Opera Mobile. It works fairly well as a browser. Like many of the browsers on Verizon phones, there is a set of controls that pop up on the bottom of the screen when you try to get at the menu for accessing bookmarks, tabs, and so on.
IE6 works pretty well, and has been customized a bit by Verizon as far as the appearance goes (color schemes, etc.). It has the same basic functions, interface and tools that Opera Mobile does, and web sites look about the same. Opera was a bit better at getting the HTML right, and web pages looked better.
As far as speeds go, I was pretty impressed. It runs on Verizon's EVDO Rev. A 3G network and most of the time browsing would have made Speedy Gonzales a happy guy. Browsing via Wi-Fi is noticeably faster. For the record, on the Omnia II, Opera Mobile was faster than IE6.
Customize
The Omnia II is highly customizable. Nearly every screen, menu and page can be altered in some way by the end user. From the positioning of the widgets, menu items, apps, shortcuts and so on, the possibilities are practically limitless. Wallpapers, ringtones, alert tones, color schemes; it's all yours to personalize. Have fun.
Extras
Apps
The number of applications pre-installed on the Omnia II is ridiculous. There are 58 different apps on the main menu...and users can download more from the Windows Marketplace for Mobile if they so choose. That might make for a jumbled mess. It's best to hide the apps you're not going to use in folders if at all possible, simply to help you keep the clutter to a minimum. Oh, and this doesn't include the Samsung widgets. It truly is overkill.
Bing
There is a full-featured Bing search client on the Omnia II. It lets users search Bing by typing or speaking queries. There are also shortcuts to help narrow searches down to categories such as maps, directions, traffic, movies, gas, the web, weather and so on. It works pretty well. It will also return locally relevant results if you so choose.
Bluetooth
The Omnia II performed very well in Bluetooth tests. Connecting to both mono and stereo headsets was not a problem. Sound quality through mono headsets was very good. Stereo headsets were pretty good, but didn't equal the quality of standard, wired headphones. The Omnia II supports a number of different Bluetooth profiles, and I was easily able to pair it to several PCs and push files around.
Clock
Using the Omnia II as a watch replacement is no problem at all. The lock screen on the device always offers the time in a nice, large digital read out. A quick press of the lock key will show you the time without the need to wake the phone up fully. Oddly, the time is not visible on the home screen, nor in the menu screens. It's not placed in the status bar at the top of the screen.
Communities
There is a social networking app of sorts developed by Samsung called "Communities." It essentially performs as an uploading application for whatever social networks users choose to frequent and can be used as a tool to update them more easily. It integrates with Facebook, Flickr, Friendster, MySpace, PhotoBucket and YouTube.
GPS
The Omnia II has GPS on board and comes with Verizon's VZNavigator application pre-loaded. If you're not interested in the monthly subscription fee for VZNavigator, Google Maps is available for free and works just as well at planning routes. VZNavigator will offer voice-guided directions, whereas Google Maps does not.
Video
Here is a video tour of the Samsung Omnia II. You can watch it here:
Or visit YouTube for more viewing and sharing options.
Wrap-Up
The Omnia II is a respectable Windows Mobile smartphone that tries hard to mask the fact that it actually runs Windows Mobile. With such deep software integration by Samsung, one might almost miss the fact that this is a WinMo device. That could be good or bad depending on how you feel about Windows Mobile 6.5. and TouchWiz. If you want to avoid Windows Mobile's look at feel, the Omnia II will let you do that. If TouchWiz gets on your nerves, look for something else.
The Omnia II delivers on most promises. The camera software works well and the camera actually takes good pictures. Same goes for the video. I wish I could say browsing the web were as good. The web experience is decent, but other platforms have WinMo beat.
The hardware is bulky, but the controls work and make sense for the most part. I'd prefer a capacitive screen on a device such as this, but the resistive screen of the Omnia II works as well as one can hope for.
In all, the Omnia II offers a lot of bang for the buck — maybe too much bang for some. It gets the basics right, and does well enough on the extras to make it a smartphone worth considering.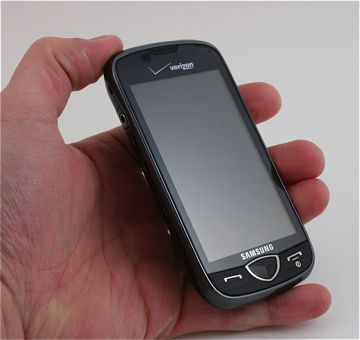 Flash 9 on Omnia II?
I want to view videos on my Omnia II, such as on Myspace, and lsiten to music on Myspace sites, but get a grey box that says Flash 9 in red...how do I get flash 9 on the Omnia II? Or is that not possible? I need a Omnia II for Dummies guide!!
Phone Scoop Review
Thanks for the detailed review. If you are a VZW customer using an older WinMo 6.1 phone, is this a phone that you would buy now or wait for the nextgen 2010 phones to come out?

It doesn't look to be that responsive, or it seems slow to go through the programs, is that a correct statement?

I figured that I have waited a year and a half for "the phone" from VZW, I thought this would be it but now I am very hesitant and wondering if I should wait a few months or look at a different brand?

Your feedback is greatly appreciated.
I have my old Omnia Modded to the hilt and absolutely love it! With my custom WinMo 6.5 Rom and Mobile Shell 3.5.2 I see no compelling reason to change as yet. I will wait to see what good Smartphones Verizon will have that will work with LTE when t...
(continues)
Old Omnia
I'm a power user of the older Omnia. I have a better form of windows mobile 6.5 than this version. Other than the screen, is there really an advantage in upgrading? I know that the specs are better but I'm worried that there won't be the ROM's available for this version to make it worth it.