FCC Reveals Nokia 6650 for AT&T
Article Comments 3
Aug 30, 2008, 3:27 PM by Rich Brome @rbrome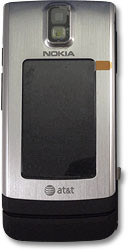 Documents made public by the FCC today show a version of Nokia's 6650 clamshell 3G smartphone sporting an AT&T logo. The 6650, announced overseas in March, sports a stainless steel cover, HSDPA data, GPS, 2 megapixel camera, QVGA display, and memory card slot. The smartphone runs the latest version of S60: 3rd Edition, Feature Pack 2. The version announced in March supported WCDMA 850/2100, for use in Europe, Asia, and Australia. The version just approved by the FCC supports WCDMA 850/1900 instead.
looking good!!
this just might be my contract extension device.
i haven't owned a flipphone since 1996, but this bad boy is looking very nice.

2mp cam, fp2, wifi, gps, s60 to boot!
if we can debrand that silly at&t fw this will be a keeper.
Nice looking S60 phone if you like the flip form factor.
I have a feeling this is only going to be released as a branded phone for AT&T and T-Mobile in the U.S.
I haven't spotted this phone unlocked anywhere yet.
If you can find a North American pr...
(continues)
N75 Replacer
Looks like a nice replacement for the N75, I wonder what the price point is?