HTC Introduces Diamond, Sans Touch
Article Comments 4
Aug 26, 2008, 3:00 AM by Rich Brome @rbrome
updated Aug 26, 2008, 7:09 AM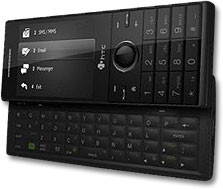 HTC today announced the S740, a follow-up to the S730 that brings the styling and features of the Touch Diamond to a non-touch-screen Windows Mobile Standard device. Like the S730, the S740 sports a standard bar shape and numeric keypad, plus a physical QWERTY keyboard that slides out from the side. The S740 is intended mainly for Europe, with HSDPA 7.2 in the 900/2100 bands, but also includes quad-band GSM, making it compatible with US GSM networks. Other notable features include a 3-megapixel camera, memory card slot, WiFi, GPS, 528 MHz processor, and FM radio. HTC expects to ship the S740 in September.
touch but no touch?
wierd...

touch OS was meant to compete with i phones "touch" capabilities and it should be that way

original winmo OS for smartphone is enough but maybe borrow some touch's cool graphics
Damn!
Too bad it's not the professional version.
Maybe you should go back to chocolates.....Non touchscreen phones can't have WM Pro
😕

That's the whole point of the Touch Pro.

The whole point of this device is a non-Pro, non-touchscreen version of the Touch Pro.