Palm Provides More Details About Treo Pro
Article Comments 22
Aug 20, 2008, 8:59 AM by Eric M. Zeman
updated Aug 20, 2008, 9:09 AM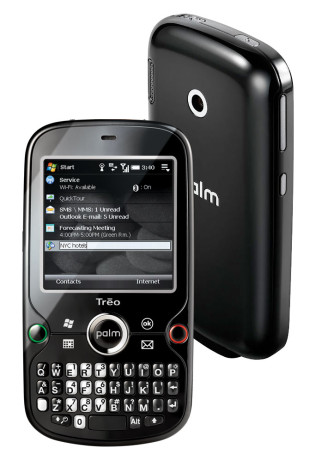 Today Palm officially announced the Treo Pro. It will run Windows Mobile 6.1, and will include 802.11b/g Wi-Fi — controlled by a dedicated button — and integrated GPS. Palm has added its own touches to the Windows Mobile platform, including a new screen saver that shows the time and includes message and other status indicators. The Treo Pro supports Microsoft Direct Push email through Exchange ActiveSync. It will have quad-band GSM/EDGE radios, as well as tri-band UMTS/HSDPA. The Treo Pro will have a slot supporting microSDHC cards up to 32GB, Bluetooth 2.0+EDR, 3.5mm headset jack, microUSB for data and charging, and a 2 megapixel camera. It will first be available from Vodafone and O2 in the U.K. starting in September, and will be available unlocked for $550 in the U.S. directly from the Palm web site and other online retailers.
Treo Pro but not for Sprinters
I don't understand Palm & Sprint at all😕 I like the treo 800w, don't take me wrong, but com'on Palm & Sprint!!! Why insulting your devoted customers, and betraying them☹️ I realize that both models have almost same specs but the Pro has the better battery, 3.5 mm headphone jack and faster processor, not to mention the sleek looks!!! Why only for AT & T (they alrerady have the freakin' iphone & now they're getting the LG InVision, Sony's Ericsson W350, etc..) Why not releasing treo 800w for us "Sprinters" in the same mold as the treo Pro. Can someone please explain the logic & fairness from all this!!!! 😡 😢
And you consider the LG InVision and that SE W350 outstanding offerings? I don't. And so far no US GSM carrier has signed on to getting the Treo Pro. It will be available from Palm direct (and I'm sure online resellers) unlocked and for like $550.0...
(continues)
Does this mean it will not work for Verizon either?
lookin real good..
..but it amazes me that palm refuses to equip their phones with a flash for the camera. For what I use my Smartphone for, the Palm is always rendered useless and this one is again no different. HTC Rocks in this area for me.
Palm realizes that its a buisness device there for focuses on buisness I dont know the Last time i used a buisness device for photos in the dark. Cell phones are not made to replace digital cameras they are there as a just in case. But HTC does make s...
(continues)
TREO "PLEASE GET YOUR GAME UP"!!!!!
I think Treo makes great looking phones with great features. But the fact that they can't make a phone that can withhold the problems upset me. There is always some kind of problem if it's charging issues, dropped calls, to getting a text recieved late. It hurts that such a great phone can have so many problems so I'm asking from the bottom of my heart that Treo "please get your game up and make this phone and the 800w work right."
First off recieving a message late is generally a service issue and not a phone issue as well as the dropped calls most phones use the same or very similar digital antenna chips... typically made by quallcom.
I agree all phone manufacturing companies...
(continues)
Centro or 800w
I know it is in the style of the Palm Centro, but is it the size of the Centro or the 800w?
Just in between the two in size & thickness but much better than both (3.5mmm headphone jack, faster processor & stronger battery)
it's not even a comparable phone ;o
Nice!
I love when Palm and Windows makes a phone together. I wish America could see a GSM version of it.
It is GSM...

It will have quad-band GSM/EDGE radios, as well as tri-band UMTS/HSDPA.

Didn't you read?

Rafster