Palm Treo Pro Confirmed
Article Comments 9
Aug 19, 2008, 8:47 AM by Rich Brome @rbrome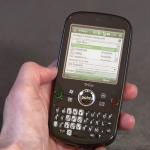 Palm today released an official video of the new Treo Pro smartphone. Accompanying text describes the phone as featuring "a one-touch Wi-Fi button, GPS, Windows Mobile 6.1 and a high-resolution flush color touch screen." Although it did appear in Palm's official multimedia library for press, the video was not accompanied by a press release. The video confirms rumors that have surfaced recently, as well as a flash presentation that appeared briefly on the company's web site last Thursday. That presentation indicated the Treo Pro would be quad-band GSM with tri-band HSDPA 3.6, in a new 0.55-inch thin form factor.
Treo please get your game up "PLEASE I"M BEGGING YOU"
I think Treo makes great looking phones with great features. But the fact that they can't make a phone that can withhold the problems upset me. There is always some kind of problem if it's charging issues, dropped calls, to getting a text recieved late. It hurts that such a great phone can have so many problems so I'm asking from the bottom of my heart that Treo "please get your game up and make this phone and the 800w work right."
Looks familiar.....
Is it me, or does this device look/sound very much like the 800w? I can't find any mention of a Treo Pro on the Treo site, and the link to learn more on the article is a discontinued link!! I was kinda hoping this was going to wind-up being the VZW equivalent!!
Guess its a gsm version? BTW played with the 800w, its nice.
It actually looks a lot different from the 800w (this is just kind of a bad shot) if you go to palminfocenter.com or gizmodo.com you can see a bunch of good pictures and specs, its actually a lot thinner. Finally a Treo with a display thats flush with...
(continues)
I was thinking the same thing.. It looks like a great phone but i am not sure if it is that much different from the orginal treo.